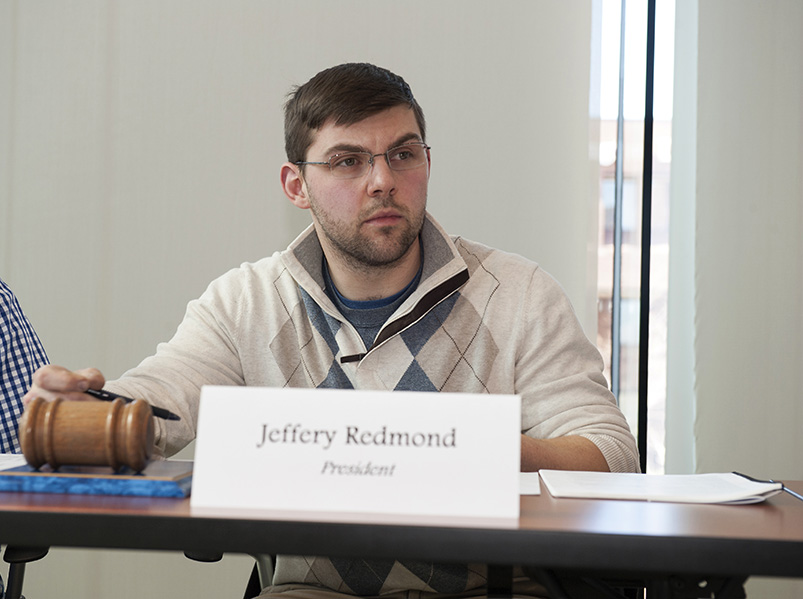 The Student Senate sets goals to create increased involvement
By Tucker Swiastyn
---
So many students in constant movement, hurrying from place to place. Some known, others unknown, but all are part of the same student body here at the college. The Student Senate's main goal here at the college is to bring these students together.
"The idea is to cultivate a communal culture. That is the whole purpose," said Jeffery Redmond, president of the senate.
Clubs and organizations are filled with the opportunity to create more of a community at the college; areas that the Student Senate have been trying to implement for the student body.
"… Once [the students] get involved in with these organizations, you see each other in the hall and it just breeds that community," Redmond said."Bringing that to the table causes people to join and get involved, and that's the purpose."
Last semester, the Student Senate headed the Campus Kickoff, dunk tank, and Trick or Treat for Kids while inviting all the other campus clubs at the college for a more communal effort.
With so many various clubs hosting different events, this can sometimes create a competitive barrier between organizations that does not need to be there.
"You want to team up with other clubs," Redmond said. "What if another club is hosting an event you want to be a part of? Instead of doing an event separate from that, why not just go help them?"
Moving forward, the biggest task for the Senate, followed by all the organizations, is membership. Growing numbers in groups create a bigger community which allows more accomplishment through one another.
"We [the Senate] are all here doing this together," Redmond said. "When you are elected, you are working with other people who are choosing to be here; you want to team up with other people and clubs."
Redmond's main goal at the college is to make connections with people, which have only happened through being part of the Senate and these organizations.
"You walk into these problems that you didn't create, but now you are responsible for, you take it in stride, you do what you can while you're here," Redmond said.
"I hear people say, 'Well I'm only here for one semester or I'm only here for two semesters.' Why would you limit the amount of impact your life could have when and wherever you are? That creates a habitual nature to keep putting off what you could be doing."
There is a driving force that continually pushes the Senate to keep creating opportunities for students — a resilience to fear.
"Everyone stays quiet for like four weeks, nobody knows each others names." Redmond said. "they are focused on the class and what everyone else thinks of them. Sometimes fear gets in the way. It's keeping you from the contact with people you enjoy." It is a group effort. The Senate is not just one individual but a group of students dedicated in creating this sense of community. "Nine out of 10 times, someone is excited to meet you just like you are excited to meet them, and they are just as nervous," Redmond said.
"The only reason they forget your name right away is because they were worried about what they sound like when they tell you their name."
Reaching for those connections comes with gain and loss, rejection and acceptance.
"Everyone is living for the first time, so no one is really an expert."
Membership, participation and community are three goals this semester that the Senate are working to apply in the students lives here at the college.