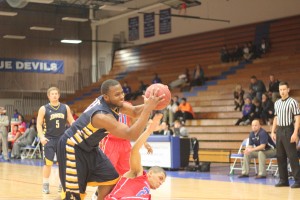 By James Howey, sports editor, @jhowey.jccc.edu
The men's basketball team was faced with an almost meaningless game Wednesday night at Kansas City Kansas Community College. No matter what the outcome of the game was the Cavs would be on the road at Brown Mackie College Saturday for the first round of regional play.
"It's one of those things where you want to play good but not much is on the line," head coach Ryan Morley said. "So we didn't play some guys as much as we usually would and tried to get some other guys reps."
The game was a close contest up until the last ten minutes. With the Cavs trailing 42-40, the devils closed the game on a 25-9 run and won 67-49. Danzel Wright led the team with sixteen points and Reshard Young was second with ten. The Cavs will be traveling to Brown Mackie, which surprisingly might benefit them. The Cavs beat Brown Mackie on the road and lost at home in their previous two meetings.
"For some reason, we play a lot better on the road," Morley said. "Our guys are ready to go and they have confidents they go in there in beat them."