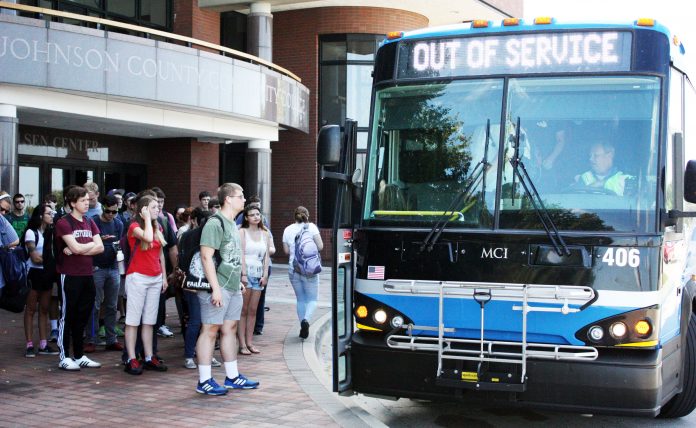 Kim Harms
Sports editor
kharms3@jccc.edu
Johnson County and Kansas City's bus systems have been making several changes in recent months. Johnson County reduced the K-10 Connector fare by 50 cents, added new bus routes and detailed a future regional bus system.
Josh Powers is the Business Liaison for Johnson County. Powers announced an upcoming 50 cent decrease for the K-10 Connector that takes students from the college to Lawrence.
"The K-10 Connector is a really important route in Johnson County," Powers said. "What [Johnson County] is trying to do here is get as many people interested in riding the K-10 Connector as much as possible. In 2015, Johnson County contracted with the Kansas City Area Transportation Authority to provide all of Johnson County's transportation. The goal here, in a big picture sense, is a truly regional transportation system."
Powers went on to explain why KCATA decided to reduce fares for the K-10 Connector.
"We want the fares for the K-10 Connector to match the fares that KCATA is charging for express routes that are similar to the K-10 Connector," Powers said. "That was the goal is even across the board as far as fares are concerned and that way we can offer a single pass that isn't specific to K-10 or any other route. You'll buy the one suburban commuter express pass and it will work across the system."
Students Eric Wheatman and Jomain Rouser ride the K-10 Connector a few times a week. They shared their thoughts on the new reduced fare as well as voicing their current concern with the bus.
"I think [the reduced fares] are good, but it depends on if [the buses] are still gonna be on time or not," Wheatman said. "It's always worse on the way home with all the traffic."
Rouser offered up a solution for the buses that are facing heavy traffic like the K-10 Connector.
"I think they need more buses and more strict schedules that the drivers need to keep," Rouser said.
Powers explained how to contact KCATA with concerns or suggestions along with the process of fixing the concern after it has been reported.
"As far as any complaints a rider might have, there is a couple different ways to interact with [KCATA,]" Powers said. "First and foremost, they can contact me. Part of my responsibility is overseeing the service provided within the county by KCATA, then we immediately address that situation. It's very helpful when people also provide their contact information so that we can follow up and make sure that we understand what has happened and respond to it appropriately. [KCATA] tries to be as responsive as possible."
Riders with any concerns or suggestions may contact Josh Powers by e-mail at Joshua.Powers@jocogov.org or by phone at 913-715-8921. Any immediate concerns can be addressed with your bus driver.