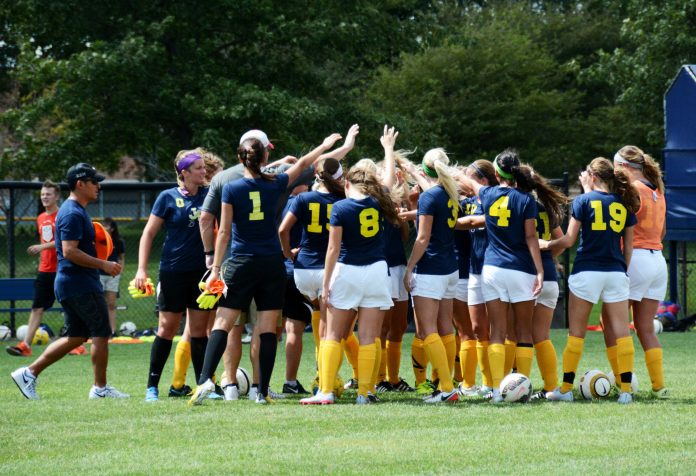 Kim Harms
Sports editor
kharms3@jccc.edu
Sarah Taylor and Joanna Taylor will be continuing their soccer careers at Columbia College in Columbia, Mo. They have been on the soccer team at the college for two years.
Sarah Taylor decided to sign with Columbia College because she wanted to continue to play soccer with her sister. The tuition cost played a large factor as well.
"It checked off all of the things that I wanted. I wanted a great coaching staff and big college feel. Columbia College is small but it is right down the street from Mizzou," Sarah Taylor said. "They had a really good biology program. Ultimately, it covered the cost for Joanna and I to go and they were the only college that had room for both of us."
In addition to tuition cost, the athletic and academic programs were a major deciding factor for Joanna Taylor.
"They have a really good soccer program so that's something we were looking at," Joanna Taylor said. "Sarah is studying Biology and [Columbia] has a new science department. I'm studying nursing and they have a really great nursing program as well. It was a perfect package deal."
Joanna Taylor is looking forward to improving her skills at Columbia and continuing to share the field with her sister.
"[I look forward to] learning about myself as a player, improving in different areas and skill I didn't have coming in and learning how to play with others and different aspects," Joanna Taylor said. "I've never played with my sister before [playing at the college] so getting to do that for two more years at Columbia is really great."
Sarah Taylor has learned a lot from playing for the college. The importance of embracing the moment and having a positive attitude were a few of the lessons she has learned.
"One of the biggest things I've taken away is every moment counts. There are times on the field where I want to get mad at somebody but everybody is watching," Sarah Taylor said."It's a really big thing for me to just have a positive attitude so when people see me they say 'Why is she so happy?' I love that. Learning that has been the biggest thing for me."
Joanna Taylor offered her advice to her younger teammates who are planning to continue to play for the college or anyone who is new to the team. Hard work and building relationships are crucial for becoming a successful athlete.
"Have fun but also work hard.You can have fun but you have to take [the sport] seriously. You won't beat the teams if you are not being serious," Joanna Taylor said. "Listen to your coaches and build a relationship with them. Take it all in and enjoy the experience because it goes by fast."
The women's soccer roster and schedule can be found at www.jccc.edu/cavs/women-sports/soccer. The stats for their 2016 season can be found at www.stats.njcaa.org.