2015-2015 
Common Read Selection 
Destiny of the Republic by Candice Millard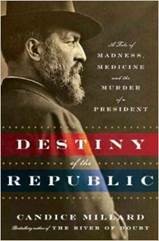 2014-2015
• Candice Millard, author of Destiny of the Republic, to Speak at JCCC
Candice Millard, author and former JCCC student, will visit the campus on Thursday, Nov. 12, to discussDestiny of the Republic.  The presentation will be at 9:30 in Yardley Hall.  Ms. Millard will be signing her book from 10:45-11:30.
 • Common Read Sponsors Student Competition — Call for Entries, Due Oct. 28

This year's common read selection is Candice Millard's Destiny of the Republic. It's an intriguing non-fiction narrative that whisks readers back to the Gilded Age of America by retelling James Garfield's election, assassination, and death.
The Common Read Committee has organized a student competion in which students may submitpose a poem, artwork, or new media text that creates a reflection of the Gilded Age as described in Candice Millard's book. The winners in each category will receive invitations to a small group luncheon, with Candice Millard. Winners' work will be on display during the luncheon and possibly in the Carlson Center lobby during the speaking engagement.
For more information click Common Read Student Competition or contact Monica Hogan at mhogan@jccc.edu, Katherine Karle, Lorie Paldino, Maureen Fitzpatrick, Jane Stock and Stacie Petrillo.
Common Read Selection for 2014-2015
The Other Wes Moore

Common Read Selection for 2013-2014
Beyond the Beautiful Forevers by Katherine Boo

Common Read Selection for 2012-2013

The Immortal Life of Henrietta Lacks by Rebecca Skloot