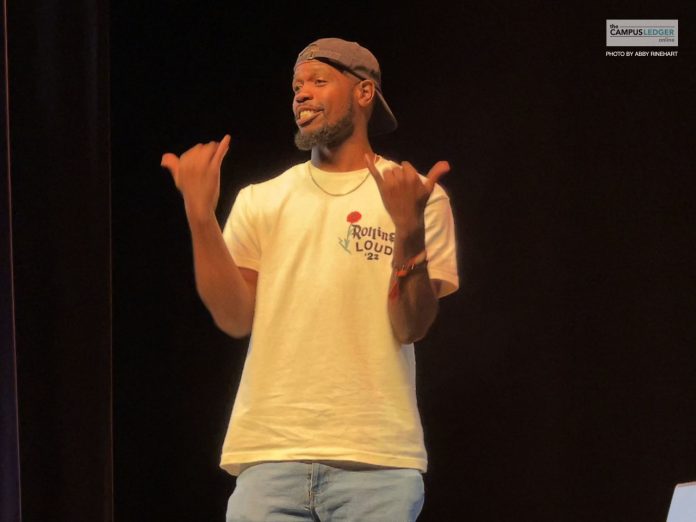 ''
Students learned how to sign the song, The Fresh Prince of Bel-Air, with Mathew Maxey on Sept. 28, during the DEAFinitely Dope Student Workshop. The workshop was in partnership with JCCC Access Services and hosted to raise student awareness of Deaf Awareness Week. The Access Services helps students with disabilities. On the access services website it states, "We're focused on student success! Equitable access and inclusive barrier-free environments are our goal at JCCC." 
Mathew Maxey was born deaf and at the age of two started wearing hearing aids. Maxey started learning sign in college. Maxey founded DEAFinitely Dope, but in recent years has changed to a movement. Maxey personally wanted to focus on dual identities of his; disability and race. His goal with DEAFinitely Dope was to support marginalized communities, he wanted everyone to experience inclusion and visitability. Maxey wants not just the deaf to feel a part of the community, but also wants other races to feel visible in this community.
In an interview with Shara Felder, a student taking American Sign Language (ASL) classes at JCCC, she spoke about her experience attending public school with students who needed interpreters. Having interpreters around her was common, but she hadn't considered becoming an interpreter until prompted by an instructor at a community education class. 
"I took a community education class, in ASL and the instructor had asked me if I ever thought of being a sign language interpreter?," Felder said. "[The instructor had told me that I] have really great hands, and [thought I would] be really good at it. And, I was like, 'okay, let me see!' I had never thought of it. And, so, he opened that up for me, and ever since then, I have wanted to do it."
When asked why Felder attended the workshop she replied: "Well, It's dope!"
"I'm not deaf, but I definitely am ensconced in hip-hop culture and just to see somebody that looks like me, who has that cultural perspective I would've been interested no matter what he looked like, no matter what music style he was presenting," Felder said, "but that made me want to see it even more, and to see a side of diversity that included me in this area."
Felder was one of many students who do not depend on sign language that attended this workshop. 
DEAFinitely Dope is having another presentation, Sept. 29, at the Polsky Theatre located in the Midwest Trust Center at 7:30 p.m., tickets are on sale for $25. 
Abby Rinehart, news editor
''