''
The women's volleyball team posted another stunning 3-0 victory against Fort Scott on Wednesday evening. 
The Cavaliers achieved a total of 39 kills, and had a combined .381 kill percentage. 
Sophomore outside hitter Jadyn Troutman led the team offensively, with 9 kills and a .267 kill percentage.
Freshman Sophie Ewy had 7 kills and a .300 kill percentage, while freshmen Kylie Harris, Sarina Ulberg and sophomore Paige Huhman each had 6 kills. Harris posted an impressive .600 kill percentage, with no attack errors.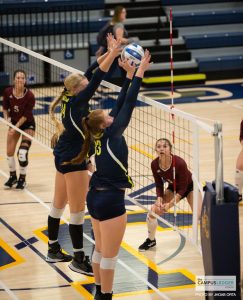 Defensively, 21 of the Cavaliers 57 digs came from sophomore Addyson Mock. Mock had a single receiving error throughout the game. 
The Cavaliers are now 29-2 on the season, after a loss to Panola College on Oct. 7 ended their 27 game win streak. The team also lost to Iowa Western Community College on Oct. 8. 
The two losses allowed rival Cowley Community College to bump the Cavaliers down to the No.-2 spot in NJCAA's DII week 10 rankings. The Cavaliers narrowly beat Cowley on Sep. 30, after winning the fifth set 16-14. 
The team will next play away against Metropolitan Community College on Oct. 19 at 6 p.m.
The Cavaliers will host Lincoln Land and Iowa Western for their final home games on Oct. 21, at 1 p.m. and 5 p.m.
Jake Twigg, sports editor
''