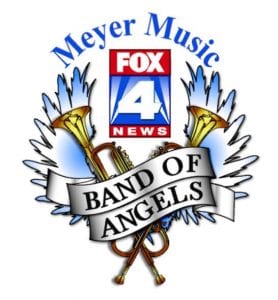 Band of Angels is seeking volunteers for their annual summer fundraiser, Art That Blows!
Art That Blows is an event that combines the art culture of the Kansas City Crossroads with a high-energy party, all in support of Band of Angels. Local artists re-purpose donated, nonfunctional music instruments and turn them in to pieces of art. Guests at the event bid on the art pieces all evening. Ticket holding guests also enjoy music, food, drinks, all while enjoying the Kansas City skyline.
Band of Angels is seeking individual volunteers and groups of volunteers to assist with duties throughout the event.
All volunteers are welcome to enjoy the event outside of volunteer shifts.
Please email Chandler Pavel at ChandlerPavel@MeyerMusic.com if you would like to volunteer.
Where? The Abbott, 1901 Cherry Street, Kansas City, MO
When? July 9, 2021
Volunteer Shift Times:
Shift 1 – 2:30-5:00pm
Shift 2 – 5:00-7:30pm
Shift 3 – 7:00pm- end of event
Volunteer duties include registration, silent auction attendants, donation drive help, drink service, cleanup, event set up and event clean up.
Happy volunteering!