New Faculty Orientation
New Faculty Orientation for full-time faculty (also known as LENS) is a year-long program that acquaints new full-time faculty with JCCC history, culture, procedures, and instructional issues. Facilitators are Luz Alvarez, David Krug, and Farrell Hoy Jenab.
Objectives
After completion of New Faculty Orientation, participants should have practical methods of:
Creating a positive learning environment
Developing learning outcomes and competencies
Selecting teaching and learning strategies
Enhancing teaching and learning using educational technologies
Developing classroom assessment for formative or summative purposes
In addition, the participants will be given opportunities to collaborate with each other in leading some of the activities and will share a strong sense of community with other first-year faculty members.
Obligations
Week-long training prior to fall semester
Additional meetings during the fall and spring semesters
---
Mentoring and Peer Review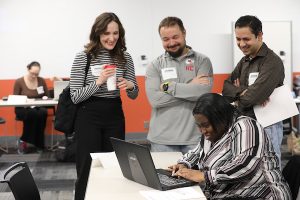 The purpose of the JCCC mentoring and peer review program is to acquaint new faculty members with opportunities and resources for their first year. Please attend an orientation session to learn how to have a successful mentoring relationship with a new faculty member or contact Farrell Hoy Jenab for more information.
---
Compliance Training
Board Policy 422.02 states that mandatory training must be completed by all new employees within 90 calendar days of their hire date.  All current employees must complete mandatory training every fiscal year. Employees are  automatically enrolled in the training. A registration confirmation email which includes how to access the training is sent to the employee's JCCC email address.
Failure to complete training required under this policy is just cause for progressive discipline.
Training is available online 24/7 in SafeColleges (https://jccc-ks.safecolleges.com) from any computer with an internet connection. Use Chrome or Firefox in its most recent version to avoid functionality issues. You will need your Employee ID number (00xxxxxx) to log in to the system.
---
ALiCE Training
At JCCC, we believe in Keeping Our People Safe (KOPS) and that training over what to do in an armed intruder situation is important to keeping everyone safe while on campus. All new employees are required to take ALiCE training.
The information regarding ALiCE training will be sent from our Emergency Management department, and the email you receive will come from noreply@mg.alicetraining.com. Please check your junk mail folder, as it might end up there.
If you have problems accessing ALICE training, please contact the office of Emergency Preparedness at ext. 3708.
---
Hiring Committee Training
As a prerequisite to serving on a campus hiring committee, an employee and non-employee will be required to have completed hiring committee training at least once within 12 months prior to the hiring committee assignment. Failure to complete the hiring committee training as required by this policy will disqualify the individual from participating on the hiring committee assignment.
This is an on-line course available in Canvas 24/7 from any computer with an Internet connection.
Place ZORG in the search box on the Staff Development Class Search page for the current year course number needed to enroll.
After enrolling, access Canvas for the training by logging in with your JCCC user name and password. The course will be listed in the dashboard.
---
Bloodborne Pathogen Training
The Bloodborne Pathogen Training Program is required for full-time and part-time employees with risk of actual or occasional exposure to blood or other potentially infectious materials. If you are required to take this training, you will be notified by your supervisor or department and assigned the module in your "Required Courses" within the SafeColleges training system.