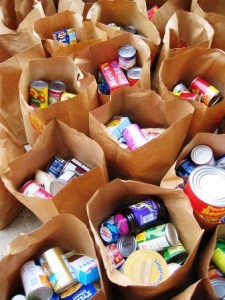 Have you ever been hungry without any way to satisfy that hunger? Many students have that need, but do not want to acknowledge it to their classmates. You can help with very little effort. The next time you buy beverages and chips at the grocery, buy a can of meat: tuna, chicken, etc. and bring it to the college.
Anyone interested in donating to the college food pantry may bring non-perishable food, personal items, baby food and diapers to room OCB 261Q. Take cash or checks to the administrative assistants in OCB 272 during regular business hours. Go to: http://blogs.jccc.edu/mun/join-model-un/jccc-model-un-news/food-pantry-at-jccc/ for more specific information about what they need and how you can help.  If you need help:
Students can stop by the food pantry in OCB 261Q between 8 a.m. and 5 p.m. Monday through Friday to pick up the food they need.
Here are more links that show that those in any community who have plenty of food, need to share one of the basics of life:
http://www.takepart.com/article/2015/02/06/student-hunger-college-food-banks
http://www.wsj.com/articles/col
http://money.cnn.com/2014/11/25/pf/college/college-food-banks/leges-launch-food-pantries-to-help-low-income-students-1428408001