Ed Affairs Calendar
Meets:  Nov. 16, Dec. 7
Faculty Senate Calendar:
Meets  Nov. 17, Dec. 8
National Novel Writing Month In November 
National Novel Writing Month (NaNoWriMo) is a fun, seat-of-your-pants approach to creative writing. 
On November 1, participants begin working towards the goal of writing a 50,000-word novel by 11:59 PM on November 30. Valuing enthusiasm, determination, and a deadline, NaNoWriMo is for anyone who has ever thought about writing a novel. Visit http://nanowrimo.org/ for more info
Journalism Sponsors People in Promotion Event, Nov. 15
The annual People in Promotion Event will be held November, 15 at 11:00 a.m. in Craig Auditorium. Faculty and students are encouraged to come. Even whole classes are invited.
This year's panel will feature a group of advertising professionals from VML who work full-time on the Wendy's account.  Their Wendy's ads are run all over the world, so it will be interesting to hear about the unusual challenges international marketing can present.
Marilyn Senter Attends NACEP Conference
In late October, Professor Marilyn Senter, English Department Coordinator for College Now, attended the National Alliance of Concurrent Enrollment Partnerships Conference held in Louisville, KY, last weekend.  Though she did not present, Marilyn is the Lead Reviewer on a Peer Review Team.  This task requires that her team review the application of a college and recommend that this college be granted or denied accreditation.  Evidently, there are hundreds of documents involved in this, but that's okay because Marilyn is really organized. 
Maureen Fitzpatrick Attends Examined Life Conference
Maureen attended the Examined Life Conference in early October. Here's her conference report:
I attended the Examined Life conference in Iowa City. If you're thinking, "Really, Maureen? That sounds kind of philosophical and introspective for a button-down, pragmatist like you," let me tell you a little bit more about the conference. The Examined Life conference is hosted by the medical colleges at the University of Iowa hospitals; the conference focuses on the role of humanities and particularly of writing in the education of medical professionals. Because I'm piloting a healthcare professionals focus section of composition this spring (and because the conference was a short 30-mile drive to my folks' house and was held on my birthday), I gave it a try . . . Read more here
 Sam Bell Presents at TYCA-Midwest 
Associate Professor of English Sam Bell presented a TYCA Midwest in St. Louis, on October 15.  Her address was "Putting People First: Promoting Affect instead of Apathy."
 Read Your Creative Writing
The Creative Writing Reading series continues this fall semester.  All faculty, students and staff are welcome to read from their work for up to 5:00 minutes at this open mic series.
Noon – 2:00 p.m.  Com 319.  The final reading event for the Fall semester is on December 2.
Mark Raduziner Attends Major Conference 
Mark Raduziner, Professor & Chair, Journalism and Media Communications, attended the annual Associated Collegiate Press college media convention in Washington, D.C., October 19-23. Mark is a member of the organizations advisory committee, which plans and recruits speakers in conference host cities, organizes learning sessions and workshops, and coordinates the awards program for both student media outlets (newspapers, digital sites, magazines, yearbooks) and individual  categories of student produced work.
Among the keynote speakers at this year's conference: Donna Brazile, political analyst and interim chairperson of the Democratic National Committee, Bob Woodward, investigative journalist and author who is best known for his work during the Watergate scandals, and Edward Snowden, former CIA employee and former contractor for the U.S. government who copied and and leaked classified information from the National Security Agency in 2013. His findings revealed NSA-operated global surveillance programs with the cooperation of telecommunications companies and European governments.
Journalism and Media Communications News
Assistant Professor of Journalism Gretchen Thum has announced that the Journalism and Media Communication Department has begun a project that brings together multiple people from multiple disciplines to collaborate and to give JCCC students a hands-on, experiential learning experience. The project involves:
* Four JCCC professors and their nearly 100 students
* One professional from the advertising industry
* Two small business owners from the community
* One consultant from JCCC's Kansas Small Business Development Center
JCCC students from Principles of Public Relations, Marketing, Business Communications, and Retail Management classes are all working together to help The General Store (a struggling small business in downtown Overland Park).  All four professors have made this a class project, with all the students contributing business advice from each of their respective perspectives.
Paul Weber, CEO of EAG Advertising, is also working alongside the JCCC students to offer his expertise, as is John Addessi from the KSBDC.
This is an example student learning happening in the JCCC CoLab.
John Addessi, consultant, KSBDC
Lorie Paldino, adjunct professor of English
Paul Weber, CEO, EAG Advertising
Mike Cole, co-owner, The General Store
John Lucas, co-owner, The General Store
Gretchen Thum, assistant professor of journalism
Pamela Hulen, associate professor of marketing management
Barbara Millard, professor of marketing management
Christy McWard, director, Collaboration Center
• Holly Milkowart Presents at MIDTESOL
English Professor Holly Milkowart presented at the MIDTESOL annual conference on October 1, 2016.  Her presentation was titled "Exploring Usage of e-Texts and Apps in EAP Courses."  The presentation was in conjunction with her pilot study that was funded by the AT&T Aspire grant in fall of 2015.
Adjunct EAP Professor Victoria Gunbatar in now a co-advisor for the JCCC International Club for the 2016-2017 academic year.
Victoria and Adjunct EAP Professor Rebecca Kastendick are creating a learning community in advanced-level EAP classes in Speaking/Listening and Writing/Grammar with a business focus.
Adjunct English Professor Leanna Brunner will be a guest speaker for the ShowMe Writers Masterclass conference at the University of Missouri-Columbia on Nov. 4-5. It is a joint venture with the Missouri Writers Guild and Mizzou Publishing. She will be part of their PitchFest and serving as a mentor for writers. http://www.showmewriters.com/
Leanna is also launching her own 12-week course designed to provide the tools necessary to help people who are interested in publishing. She will be offering online courses, as well as live-feed webinars for people (beginning in late November). Her new website is http://www.writethedream.com.
She will also be participating in Nanowrimo [National Novel Writing Month] in November working on my first standalone novel.
This past weekend (Oct. 22-23) Sally volunteered at the Fort Osage National Historic Site 1808-1827 (Sibley, Missouri). Besides spearheading open fire cooking meals for 75  participants 3 times a day, she organized 45 minutes workshops for the women attending, including "The Life of Jane Doe, not Jane Austen," as many living history reenactors who are present at these events at historic sites want to dress up like "Jane Austen" characters. She looked at what real American women were like in the 1808-1815 period from the perspective of working  and middling class women and how to interpret them both in dress and manners to the public.
Adjunct English Professor Daniel Kennard had a short piece of fiction published just recently in Issue 4 of Weirderary Literary Magazine. It's an online journal at weirderary.com.
Submitting Entries to Mind's Eye
The Mind's Eye student literary magazine is taking submissions (up to 3 per person) for the 2017 edition. The submission deadline is December 9. Please submit entries to Professor Thomas Reynolds in GEB 165H.
Around campus, you'll see the follow submission forms:
JCCC Creative Writing Club 
The Creative Writing Club brings students together to share their writing. The club will host workshops and activities to develop writing skills, learn new styles of writing and provide peer critiques. Advisor: Greg Luthi, 913-469-8500, ext. 3936
The 2016-2016 Common Read selection is In Defense of a Liberal Eduation by Fareed Zakaria.
Common Read Keynote: Lee Pelton Spoke on "The Value of a Liberal Education"
Dr. Lee Pelton, president of Emerson University in Boston and Keynote Speaker for the Common Read, spoke Thursday, October 13, 2016, in Polsky Hall. The title of his address "The Value of a Liberal Education in the 21st Century" was well received by many students, faculty and administrators in attendance.
Dr. Pelton grew up in a working-class home in Wichita, Kansas. After earning a B.A. from Wichita State in English and Psychology, he continued his graduate education at Harvard, where he received a Ph.D. in literature. His career has taken him to Colgate, Dartmouth, Willamette (OR), and Emerson.
Cavalier Conference on Writing and Literature News
The JCCC Third Annual Conference on Writing and Literature will take place on April 21, 2017.  So save that date! This year the featured speaker will be Professor Tom Averill of Washburn University.  The theme for the conference is "Showcasing" and will involve JCCC's new Collaboration Center on the first floor of the OCB.
The organizing committee of Maureen, Marilyn, Matthew, Greg Dixon, Nathan, Ted, and Keith are planning the conference and will send out a call for presentations soon.
Steve Publishes a Poetry Collection 
Professor Steve Werkmeister has published a collection of poems that can be found on Amazon.com: The Unauthorized Autobiography:: Composed of Fragments, Distortions, Mythologies & Lies. Also see Steve's blog:  https://stevesofgrass.wordpress.com/
Adjunct Professor Bill Carpenter, the adjunct of most senior standing in the English Department, came up in an interview with a successful student who graduated from JCCC.  You can find the interview on the college website: http://www.jccc.edu/newsroom/2016/09/ps-daniel-jenab.html
Please see Maureen's MLA Page: http://blogs.jccc.edu/mfitzpat/mla-in-service-2016/
MLA 2016 Brochure from Norton: MLA 2016 Booklet
The English / Journalism Division collected food in the month of September for the JCCC Food Pantry.
We would like to thank Katherine and Holly for organizing this event.
Like The Choices Project from two years go, this event asked students the question How does education make you a better human being? The student (and other folks) responses, which were many and interesting, are being put into digital form and will be available soon.
Anthony Funari Presented in the Great Books Lecture Series. 
On September 14, Professor Anthony Funari spoke on Milton's Paradise Lost to an attentive crowd of some 50 people in the first public event at the new Collaboration Center.  Way to go, Anthony! Everyone enjoyed your spirited discussion of exceptionally difficult poetry.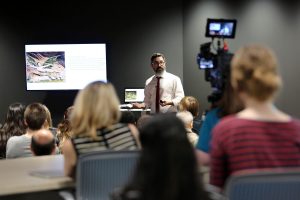 Prof. Thomas Reynolds Poetry Published 
Spartan Press and Prospero's Books announced the release of their 21st book in the POP POETRY series: "Small Town Rodeos" by Thomas Reynolds
Mind's Eye, the JCCC student literary journal, is available in the English Department office in CC 221 and at Tom Reynolds' office in GEB 165H. Professor Reynolds is the faculty adviser for the publication.
Follow English on Twitter
The English Twitter account is hosted by Prof. Steve Werkmeister.  Follow him on Twitter at English_Dept@JCCCEnglish
The following are the 2016-2017 selections for the Booktalk Discussion group:
Friday, Dec. 2 – Baba Dunja's Last Love by Alina Bronsky (Andrea Kempf – facilitator)
Friday, Jan. 27 — Evicted: Poverty and Profit in the American City by Matthew Desmond
Friday, Feb. 24 Excellent Daughters: The Secret Lives of Young Women Who Are Transforming the Arab World by Katherine Zoepf
Friday, March 24 — Hero of the Empire by Candice MillardFriday, April 28 — Black Hole Blues by Janna Levin
A Video from Arizona State University 
https://www.youtube.com/watch?v=yQq1-_ujXrM&feature=youtu.be