Updated October 25,  2015
• Dates to Remember: 
Faculty Senate: FS Blog
–Meets on the 3rd Thursday at 3:30, RC 270: 10/15, 11/19, 12/3
Faculty Association: FA Blog
–Meets on the 2nd Monday at 2:00: 10/12, 11/9, 12/14
Educational Affairs: EA Blog
–Meets 2nd and 4th Wednesday at 3:00: 10/7, 10/21, 11/4/ 11/18, 12/2
People in the Media Journalism Event, October 8
Lieberman Award, Applications due Oct. 15
TYCA-Midwest Conference, Oct. 8 – 10, Regnier Center
Sabbatical Leave Applications due  5 p.m. on Friday, October 9, 2015.
Spring Registration goes live online, Oct. 21
Booktalk: October 23,  Deadly Wandering by Matt Richtel
Common Read Student Competition, Deadline Oct. 28 (Information below)
Candice Millard Speaks at JCCC, Nov. 12
NISOD Excellence Award Nominations, due Oct. 30
Burlington Northern Faculty Award, Nominations due mid-December
Distinguished Service Award Portfolio, due Oct. 15 (according to Master Agreement)
 • Lieberman Teaching Excellence Award for Adjunct Faculty Application due Oct. 15 
Reminder! The nominations for the Lieberman Teaching Excellence Award for Adjunct faculty are due on October 15. The award criteria and information can be accessed by clicking on the following link: Lieberman_Award_Criteria_Packet
If you have any questions, contact Tom Grady, faculty development coordinator, tgrady@jccc.edu or via ext. 3370
• Distinguished Service Award Application Deadline, December 1
Distinguished Service Award Submission Deadline Extended: The submission deadline for the Distinguished Service Award has been moved from October 15 to December 1. The date has been moved due to aligning the requirements and the award process with the new guidelines as reflected in the master agreement.  If you have any questions, please refer to the Master Agreement Article XIII (in the link below) or ask any of the members of the FA's negotiation team (Jeff Anderson, Janette Funaro, Jim McWard and/or Ron Palcic).
• Career Development Center Posts Jobs for Students
Please pass the word along to students: employers post many jobs through the Career Development Center looking for JCCC students to fill those vacancies. The Career Development Center advertises job postings and recruiting to students in three ways:
JobLinks, an online job database sponsored by the Career Development Center, offers approximately 300 jobs by area employers. Students can create an account on JobLinks and view jobs at any time by using this link. JobLinks posters and flyers are available on campus and in the Career Development Center.
Job postings are posted daily on two campus job bulletin boards on the second floor of the Student Center and the second floor of CLB. Students may also visit the Career Development Center to view numerous job postings in the job binders.
Recruiters from area companies recruit on campus Monday through Thursday on level 1. 5 of COM (near the food court) from 11 a.m. to 1 p.m. Students are encouraged to stop by recruiting tables to visit with area companies about jobs. The weekly schedule of recruiters is advertised on the digital signs, in the Career Development Center and on the job boards. One is located on the second floor of the Student Center; the other is on the second floor of GEB.
For more information, please contact the Career Development Center at

913-469-3870

or stop by SC 252.
• Spring Registration Information 
Sept. 28, Spring schedule of classes becomes available on the web.
Oct.  21,  Open enrollment begins on the web at 9 p.m. for spring classes.
Please alert your students to these dates.
• TYCA-Midwest, October 8 – 10, Here at JCCC 
Yes, English and Journalism Division, JCCC is hosting TYCA this year.  Many members of our faculty are participating.  The organizing committee is great! It's members are Maureen Fitzpatrick, Matthew Schmeer, Beth Gulley, Andy Anderson, Sam Bell, and your blog editor.
 • • • Faculty Senate Reports from Lorie Paldino and Andrea Broomfield 
Please read down this homepage to the minutes from the Faculty Senate meeting on Thursday, Sept. 17. Lorie and Andrea are representatives to the Faculty Senate, as are Nathan Jones (who is the president) and Keith Geekie (representative at large).
• People in the Media Events 
You and your students are invited to attend this year's People in the Media panel presentation, sponsored by the Journalism and Media Communications Department and ECAV Radio:
Thursday, October 8, Craig Community Auditorium (GEB 233) 11 a.m.-12:15 p.m.
Theme and guests: "Don't Turn That Dial"–local KC radio DeeJays:
Jason Nivens, 98.9 FM (The Rock)
Myron Fears, 103.3 FM (Hot Jamz)
Danny Boi, 96.5 FM (The Buzz)
Ivani Bing, 95.7 FM (The Vibe)
Find out what's happening in Kansas City Radio. For more info contact Mark Raduziner, Chair,  Chair, JCCC Journalism and Media Communications
913/469-3131
• Textbook Committees for Comp I and Comp 2 Being Formed 
Please consider volunteering for the Comp 2 Textbook Selection Committee if you regularly teach Comp 2.
Ted Rollins, lead insructor for Comp 1, is in the process of forming of the Textbook Selection Committee for Comp 1 books.  trollins@jccc.edu
• The E/J Division Social Committee Request 
Feeling flush with funds?  Remember that you can give your left over cash to Marilyn, Maureen, Keith, Diane or Sayanti, as a contribution to your Division's Social Fund.
• English Conference Room in Need of Books

We are hoping to create a small English Department library in CC 221, in the new conference room.  If you have some books (not textbooks) that you would like to donate, please drop them off to Kelly.  We'd like to have the bookshelves filled by the beginning of the spring semester.
• A Message about Twitter from Steve Werkmeister: 
Hope everyone's semester got off to a smashing start and all that. As you may know, on behalf of the Publicity Committee, I've been administering the JCCC English Department's Twitter account (@JCCCEnglish). The Twitter account is one attempt at having a greater social media presence in the hopes that we can showcase our disciplinary values and the achievements of our faculty.
We need your help, though. We need you to follow us, to spread the word about us, to re-tweet us to a near-stalker level. Most of all, we need your news–your publications, your grants, your degrees, your conferences, your triumphs, everything. We have the eyes of much of the community–our followers now include Joe Sopcich, KATE, the JCCC Foundation, JCCC library, JCCC Student Life, JCCC Student Senate, JCCC AAC, JCCC tweet and JCCC's eCAV Radio. We're an active department, but we're also under attack from all sides, even here on campus. My hope is that if we are constantly referencing our achievements and activities, if we are consistently in the minds of our followers, we can fend off some of these attacks on our discipline, attract more students (even if it's through advisors/counselors who realize through the Twitter feed that we're doing important work besides the Comp sequence).
For that to happen, though, I need to hear from you. Please just send me a quick email so that I can get the announcements out there.
Also, I revised my personal blog (again), and I thought it might be of interest to some of you. I decided to post my literature and theatre notes. I've been working on it off and on, so right now there's some Shakespeare stuff (reading and performance), some fiction (Flannery O'Connor and Bobbie Ann Mason), Sophocles' Antigone, and maybe a bit more. I'll probably add stuff as I go through the semester and next summer, so it will be heavy on the stuff I teach (Brit Lit, Fiction, Drama). There's also a section where I'll have a list of my own recent publications with links where appropriate. Anyway, these texts tend to be the typical ones we teach in Intro to Lit and our 200-level classes, so I figured a few of you might be interested. Here's the link: https://stevesofgrass.wordpress.com/ — Steve
• Candice Millard, author of Destiny of the Republic, to Speak at JCCC
Candice Millard, author and former JCCC student, will visit the campus on Thursday, Nov. 12, to discuss Destiny of the Republic.  The presentation will be at 9:30 in Yardley Hall.  Ms. Millard will be signing her book from 10:45-11:30.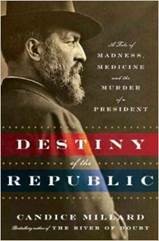 • Common Read Sponsors Student Competition — Call for Entries, Due Oct. 28

This year's common read selection is Candice Millard's Destiny of the Republic. It's an intriguing non-fiction narrative that whisks readers back to the Gilded Age of America by retelling James Garfield's election, assassination, and death.
The Common Read Committee has organized a student competion in which students may submitpose a poem, artwork, or new media text that creates a reflection of the Gilded Age as described in Candice Millard's book. The winners in each category will receive invitations to a small group luncheon, with Candice Millard. Winners' work will be on display during the luncheon and possibly in the Carlson Center lobby during the speaking engagement.
For more information click Common Read Student Competition or contact Monica Hogan at mhogan@jccc.edu, Katherine Karle, Lorie Paldino, Maureen Fitzpatrick, Jane Stock and Stacie Petrillo.
• Creative Writing Readings Schedule Announced
Creative Writing Readings will happen COM 319 at noon.

On September 30, Susan Peters will host.

Beth

Gulley

will host on October 28, and Tom Patterson will host on November 18.
Students are invited to bring approximately 5 minutes worth of their own creative writing to share in an open mic format. Coffee and cookies will be provided. For more information contact Beth Gulley at bgulley@jccc.edu
• Booktalk Dates and Selections: 
Friday, September 25     The Ruins of Us by Keira Parssian (*Roz facilitating)
Friday' October 23           Deadly Wandering by Matt Richtel
Friday, November 20      We Are Completely Beside Ourselves by Karen Joy Fowler
Friday, January 29            Jacksonland  by Steve Inskeep (Pat wants a HISTORIAN to do this,  but otherwise will let us impose on her again)
Friday, February  26        A Spool of Blue Thread by Anne Tyler (Sheri Barrett facilitating)
Friday, March 25               Dead Wake by Erik Larsen (Marilyn G facilitating)
Friday, April 22                  Being Mortal by Atul Gwande  (Judy Oden facilitating)
 • JCCC Food Pantry Needs Help!
Our JCCC community needs your help to STOP HUNGER ON OUR CAMPUS our food pantry is in critical need of donations.
The JCCC Food Pantry was established in 2011 and it continues to be a needed service on our campus.  This semester the location moved to OCB 261Q .
It has been challenging to keep the pantry stocked and we are confident that our community here at JCCC will provide.   Last year the following departments/divisions answered our challenge to help: Science, Nursing, Math, English & Journalism,  Finance and Administrative Services, Business, Interior Design, AHSS and  Counseling
They  took a month and challenged their staff, faculty and students to be responsible for collecting items needed.
Will you please consider taking a month this year and help. Science is already on board and took September but all other months are open.
So does English and Journalism want to sponsor a month again? Please remember that individual donations can also be made.  Contact Brian Wright, Mary Smith or Holly Milkowart for more information.
• Andrea Broomfield Blogs about Life as a JCCC Student, Post #1
"Those Who Dare to Teach Must Never Cease To Learn":  A Professor Returns to the Classroom by Andrea Broomfield
Teachers know that the joy of instructing students comes from what they learn themselves.  Effective teachers are natural-born learners, and I am hardly an exception.  In spring, 2015, I spent my sabbatical in Johnson County Community College's Hospitality and Culinary Academy (HCA) as a student.  I wanted to take what I learned and apply it to new food writing courses I was developing and teaching for our English department. Working in the kitchen, sitting through lectures, completing term papers, stressing out over practicums, and studying for the nationwide ServSafe examination would give me an edge when in fall, 2015 (now, in other words), I resumed my place behind the podium.
First, a bit of background.  I realized how much I needed to become a student in the HCA because I had already designed and was teaching Composition I: Food Focus, but I was doing so with a hazy idea of what my students' daily routines were like, and what they actually studied.  Was I really helping these students if I required them to keep a food diary and write an essay analyzing it?  Was it that valuable to require them to investigate and write about a current food controversy? A culinary fad?  Was a recipe narrative all that valuable?  While such assignments seemed straight-forward to me because they all had to do with food, I increasingly recognized that without a solid grasp on how the HCA operated, what degrees and certificates enrolled students worked towards aside from a chef apprenticeship, I was not going to reach those students in a meaningful way.
Thus, I determined that to gain more confidence teaching HCA students by becoming one myself. I would enroll in typical first semester HCA courses, including Professional Cooking I (PC I), Perspectives in Hospitality Management (HMGT 121), and Food Service Sanitation.  I would sit there with them in lectures, cook with them on teams, engage them during breaks, put in volunteer hours in the HCA kitchen, and study right along with them.
The purpose of my blog is to go beyond the nitty-gritty of how to fabricate a fish or how to calculate a hotel room rack rate.  It is to share with my colleagues, students, and curious browsers what it felt like to be a student.  I want to offer some insights and stories about my experiences, and suggest strategies on how professors might reach their students more effectively.  At times, I might wax philosophical as I consider what it feels like to be simultaneously on both sides of the podium.
• NCTE Statement Affirming #BlackLivesMatter 
The following statement, invited by the NCTE presidential team and authored by the NCTE/CCCC Black Caucus, calls on all English, English language arts, and literacy teachers "to transform our world and raise awareness of the crisis of racial injustice." It affirms that "as an organization, we are committed to providing English educators with the tools, training, and support needed to build a more equitable system better able to serve the unique needs to all youth." As you begin the school year, please consider this eloquent statement as you, too, work for equity in your classroom, institution, state, and country. Sincerely,
The NCTE Presidential Team
Kathy Short, Doug Hesse, Susan Houser, Ernest Morrell
• Farrell Janab, Director of Kansas Studies Institute, Gets Another Hat

Adjunct Professor of English Farrell Jenab, who is the Director of the Kansas Studies Institute here at JCCC,  has also been selected as the new Study Abroad Coordinator in the International Office. Congratulations, Farrell!
• Study Aboard Opportunities for JCCC Students 
Farrell Jenab, as the new Study Abroad Coordinator, wants the English Department to know that the most effective way to let students know about study abroad options is through classroom visits.  She would like you to invite her to speak to your classes about the study abroad program.  It will take less than five minutes. You can contact Farrell at 

fjenab@jccc.edu. 
• Nominations Sought for NISOD Excellence Award, Due Oct. 30
The National Institute for Staff and Organizational Development (NISOD) Excellence Award was established to recognize faculty members, administrators, and administrative staff who epitomize "the importance of excellence in teaching and leadership in open-door settings" by keeping their focus on helping students succeed.
These are the individuals who do great things in the classroom, or go out of their way to ensure student learning, success and leadership, and are innovative within the roles they serve on campus. Since its inception in 1978, NISOD has emphasized the importance of teaching and leadership excellence in institutions of higher education.
Nominations are being accepted for this prestigious award. Click on the following link to access the award nomination form: NISOD Excellence Award Nomination
The JCCC Staff and Organizational Development Department will provide full travel support for three selected individuals to attend the NISOD Conference, scheduled for May 28 to 31, 2016, in Austin, Texas. The conference focuses on celebrating teaching and leadership excellence with outstanding individuals sharing their best practices. All award recipients will be recognized during the final conference session.
If you have any questions, contact Tom Grady, faculty development coordinator, tgrady@jccc.edu.
• Faculty Senate Report from Andrea Broomfield, Faculty Senator, English-Journalism Division for Sept. 17, 2015, 3:30-5:30
The meeting began with a visit from President Sopcich who reported on, among other items, JCCC's new partnership with KU.  Students will now be able to enroll simultaneously at JCCC for general education courses and at KU for degree-specific courses. President Sopcich also noted that credit enrollment rebounded  slightly this semester.  He called attention to the Oct. 3 Board of Trustees retreat which will focus on campus building upgrades.
Trustee Greg Musil also made a guest appearance.  He briefly outlined the role of Collegial Steering and its importance as a "sounding board" and place where college issues will be discussed. The objective of Collegial Steering will not be to make decisions, however. Board members are committed, Musil also noted, to being more actively involved in daily life at JCCC, participating as schedules will allow in President Sopcich's coffee chats with students and other events that put them in among faculty, students, and staff.
Reports from College-Wide Committees included updates from College Accreditation and Collegial Steering.  Ron Palcic, President of the FA, also noted the formation of a new committee that includes several faculty who will be working with Larry Reynolds and Barbara Larson to discuss the use of classroom space and how to make the space more conducive to teaching and learning.
Irene Schmidt discussed Campus Equity Week, which focuses attention on the ratio of Full-Time to Part-Time faculty and what it means to the quality of student education and adjunct well-being, both in terms of adjuncts at JCCC and also nationwide.  Campus Equity Week begins in October.  Their website is available at http://www.campusequityweek.org/2013/
• The Faculty Senate from Lorie Paldino, Thursday, Sept. 17 in RC 270 from 3:30 – 5:30.
Below are the highlights.  The last one in red asks for your feedback!  I could use some ideas, and I would like to know who is interested in participating:
President Joe Sopcich:  JCCC and KU introduced a new degree partnership program which helps students chart a path to their goals early in their academic career, enabling them to earn both an associate's degree from JCCC and a bachelor's degree from KU.  The program will allow students to be fully admitted at both institutions. Students can enroll in core classes at JCCC; at the same time, they can take upper-level, program-specific courses at KU, either in Lawrence or at the Edwards campus in Overland Park.   This is exciting news.  We are the only ones that KU has partnered with in such a way.
The latest demographics show an increase in Hispanic students (9%).
The college is moving forward with plans to renovate old classrooms and spaces which have not been updated in years, including the Carlsen Center.
Finally, the college is asking the Board of Trustees to pass a "metro rate" for students living just over the MO line to entice them to come to JCCC.
Trustee Greg Musil visited with the senate.  He said it is part of a culture shift with the Board of Trustees.  Their goal is to get out and be seen.  Note that they are a volunteer board, so it is a challenge for some to get to campus during the day.
Reports from College-wide Committees:
College Accreditation Report:  Sheri Barrett visited the senate to update us on the accreditation report due in June of '17 and the '17-'18 multi-day visit by an accreditation team.  They will need volunteers for teams in 6 categories, the largest of which is "Helping Students Learn."  The visiting team will also want to meet us.  If you would like more information on the 6 categories and opportunities to volunteer, let me know.
Space Committee:  Ron Palcic reports that there are 6 faculty members on the space committee.  They are looking 50 years ahead to plan for space use.
Collegial Steering:  Traci Putnam, adjunct in Math, is the new rep on Collegial Steering.  She reported that Chair Greg Musil set out the guidelines for the group, which are fairly open and meant to promote discussion and honest questions.
Faculty Voices:  Irene Schmidt, adjunct Communications, attended the first meeting.  Faculty Voices is a national initiative which looks at student retention rates.  The group is gathering information for its national report.
Reports from Senate Committees:
Chairs Special Committee:  Andrea Broomfield reported that they are just waiting on a few more faculty chairs to return their surveys so the group can compile their report.
Communications:  Patrick Lafferty reported that the committee has revised the blog http://blogs.jccc.edu/facultysenate/  If you are looking for more information (or official minutes), you can check that site.
Elections: The committee is working to address a quick response to requests for committee members by administration and other faculty groups. They will provide a form for the requesting individual to submit.  They also have a standard questionnaire to be used in any election.  In-house elections of senators to committees will test Poll Everywhere for effectiveness and ease of use.
Student Privacy vs. Classroom Safety:  An issue was brought to the senate's attention:  a professor was teaching a student who became hostile and harassing over time.  The situation became dangerous.  It turns out the student had behavior issues which were known to Access Services but not faculty.  The faculty member is asking why there was no notification of the problems.
Counseling stated that FERPA prevents them from revealing what students tell them.  What is put in an Access Services plan will only be shared with faculty if the student approves it.  In this case, the student did not.
Senators suggested that counseling look into revising the form that the student fills out to include a check box which states something like "I am okay with Access Services disclosing this information to my professors."
Counseling will bring this suggestion to the director and let us know.
Campus Equity Week:  Campus Equity Week is a national movement to support adjuncts in higher education.  Check out their website:  http://www.campusequityweek.org/2013/  A stated principle of CEW is "that quality education depends practically and ethically on professional and just working conditions for all faculty.  The crisis of contingent faculty at colleges and universities is at the core of the inequities that pervade higher education."
Irene Schmidt put forth a motion, which was passed unanimously, that the senate would support her letter to the editor to celebrate adjunct faculty achievement, raise awareness of the FT/PT ratios, and reference the national campaign.  Furthermore, the senate discussed ordering buttons to support the cause.  That issue was not voted on, but will be discussed further via email.
• Synopsis of the Faculty Senate Meeting, August 20, 2015 
Submitted by Andrea Broomfield
The Faculty Senate meeting for Aug. 20, 2015 started at 3:30 and ended around 5:30.  Senators first heard from President Sopcich, who reported on a 3.5% decline in credit enrollment.  He also noted that 40% of credit hours are no longer coming from students enrolled in face-to-face classes.
The FS approved minutes from the last meeting and proceeded to elect members to Communications, Elections, Adjunct Affairs, and Collegial Steering Committees.  Vin Clark reported that the Chairs Committee had previously sent questionnaires to all department chairs regarding their jobs, and that the Chairs Committee would write up a report regarding the findings in October or early November.
Time was spent discussing the possibility of expanding Faculty Senate representation at IDC meetings, and also the importance of IDC including a representative from Education Affairs as well as Faculty Senate and Faculty Association. This is the first time that the FS and FA presidents have been invited to meet with the IDC once each month.
Other important business concerned a discussion about the involvement of adjunct representatives on the Educational Affairs Committee.   Ed Affairs is asking the senate to help facilitate the election of an adjunct representative because we have a clear way to reach all adjuncts across campus.  Discussion ensued, given that this individual would not have a vote, making him/her similar to an administrator or the student representative.
The meeting concluded with discussion of electing a JCCC faculty member to assist with Student Pathways, part of JCCC's Strategic Plan under Goal 1 (increasing student success).
GEB 264.
2:15-3:30