Ed Affairs Calendar
Meets: Oct. 5, Oct. 19, Nov. 2, Nov. 16, Dec. 7
Faculty Senate Calendar:
Meets Oct. 20, Nov. 17, Dec.
A Rose from Keith's Garden – September 23, 2016
Steve Publishes a Poetry Collection 
Professor Steve Werkmeister has published a collection of poems that can be found on Amazon.com: The Unauthorized Autobiography:: Composed of Fragments, Distortions, Mythologies & Lies. Also see Steve's blog:  https://stevesofgrass.wordpress.com/
Adjunct Professor Bill Carpenter, the adjunct of most senior standing in the English Department, came up in an interview with a successful student who graduated from JCCC.  You can find the interview on the college website: http://www.jccc.edu/newsroom/2016/09/ps-daniel-jenab.html
Please see Maureen's MLA Page: http://blogs.jccc.edu/mfitzpat/mla-in-service-2016/
MLA 2016 Brochure from Norton: MLA 2016 Booklet
The English / Journalism Division is collecting food in the month of September for the JCCC Food Pantry.
Katherine and Holly would like those who want to donate to focus on the following needs: canned meat, pasta sauce and pasta, beans and other non-meat proteins, canned fruit, soup, and baby items. 
Thanks again for your help, and remember that we still have several weeks left.  If you haven't yet had a chance to donate, you still have time.
The 2016-2016 Common Read selection is In Defense of a Liberal Eduation by Fareed Zakaria.
Common Read Keynote: Lee Pelton "The Value of a Liberal Education"
Thursday, October 13, 2016  — 11:00 in Polsky Hall
Lee Pelton, president of Emerson University in Boston, grew up in a working-class home in Wichita, KS. After earning a B.A. from Wichita State in English and Psychology, we continued his graduate education at Harvard, where he received a Ph.D. in literature. His career has taken him to Colgate, Dartmouth, Willamette (OR), and Emerson, and he has been deeply involved in both community and academic arts programs including serving on the boards of the   Oregon Shakespeare Festival, the Oregon Symphony,  and Oregon Health & Science University   Foundation, as well as overseeing the development of the first university comedic arts program at Emerson.
The Human Being Project – public writing project, various locations
August – Mid-September
Like The Choices Project from two years go, this event will ask students the question How does education make you a better human being? If you would like the project posting sheets for your students to write on (they can post, you can post, you can give them to us and we will post) contact the project coordinators Lorie Paldino (lpaldino@jccc.edu )or Staci Petrillo (spetrill@jccc.edu)
The Great Books Mini-Lecture series
Short talks on books everyone should read presented by interdisciplinary faculty and staff. This semester's presenters are:
Wednesday, October 12 @ 12noon in Collaboration Center, Dan Owens on Slaughterhouse Five
Wednesday, November 9 @ 12noon in Collaboration Center, Kristy Howell on Fire Season
Anthony Funari Presents in the Great Books Lecture Series. 
On September 14, Professor Anthony Funari spoke on Milton's Paradise Lost to an attentive crowd of some 50 people in the first public event at the new Collaboration Center.  Way to go, Anthony! Everyone enjoyed your spirited discussion of exceptionally difficult poetry.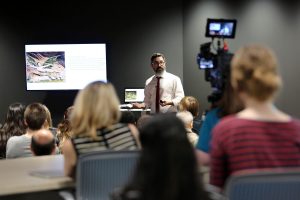 The JCCC Third Annual Conference on Writing and Literature will take place on April 21. So save that date! The organizing committee of Maureen, Marilyn, Matthew, Greg Dixon, Nathan, Ted, and Keith have begun meeting to plan the conference. This year's theme will be "Showcasing" and will involve our new Collaboration Center.
Prof. Thomas Reynolds Poetry Published 
Spartan Press and Prospero's Books announced the release of their 21st book in the POP POETRY series: "Small Town Rodeos" by Thomas Reynolds
Mind's Eye, the JCCC student literary journal, is available in the English Department office in CC 221 and at Tom Reynolds' office in GEB 165H. Professor Reynolds is the faculty adviser for the publication.
Follow English on Twitter
The English Twitter account is hosted by Prof. Steve Werkmeister.  Follow him on Twitter at English_Dept@JCCCEnglish
The following are the 2016-2017 selections for the Booktalk Discussion group:
Friday, Oct. 28 — Smoke Gets in Your Eyes by Caitlin Doughty (Cathleen O'Neil – facilitator)
Friday, Dec. 2 – Baba Dunja's Last Love by Alina Bronsky (Andrea Kempf – facilitator)
Friday, Jan. 27 — Evicted: Poverty and Profit in the American City by Matthew Desmond
Friday, Feb. 24 Excellent Daughters: The Secret Lives of Young Women Who Are Transforming the Arab World by Katherine Zoepf
Friday, March 24 — Hero of the Empire by Candice MillardFriday, April 28 — Black Hole Blues by Janna Levin
A Video from Arizona State University