Blog Update: March 25, 2015
---
• A Message from Beth Gulley, Program Chair, Transitions Conference, April 24

Colleagues,
We are four weeks away from hosting our first annual Cavalier Conference on Writing and Literature. Our theme this year is Transitions. We believe we have a wonderful line up of presentations that includes Ernest Morrell, the immediate past president of NCTE, as our keynote speaker. I have attached a preview of the schedule, so you can get an idea of what sort of presentations you can choose to experience.  It would be wonderful if all of you join us in the Regnier Center to take part in the conference.
Keith Geekie has promised that all of us may cancel our classes on April 24. In addition, she has offered to pay for employees of the college to attend.
You may register for the conference at this website. Contact Beth for the promotion code to register for free.
• A Message from Steve Gerson 
I want to thank the E/J Division for their help with my daughter Stefani's dissertation research.  She has completed her face-to-face interviews which completes 4/5 of her dissertation.  She has already found the following about our reverse transfers:
100%!! satisfaction with JCCC
about 60% wish their high school counselors had counseled them into going to JCCC vs. a 4-year school
she's found about 9 different thematic reasons for their reverse transfer (finances, health, career goals, personal reasons–like marriage/elopement, athletic playing time on team sports, urban vs. rural settings of college choice affecting social life, grades, etc.
It's been fun and she appreciates your help.
•  Mind's Eye Gets Its Spring 2015 Cover Art
Professor Tom Reynolds, adviser for the student literary magazine, is giving the E/J Division a first look at the cover art for the Spring 2015 issue.
• Folks Have Returned from the CCCC in Orlando
Professors Diane Davis, Dave Davis and Ted Rollins attended the 2015 CCCC conference in March 18–21, 2015, Tampa, Florida.  Diane gave the presentation "Analysis of a Protest Group:   Teaching First Year Composition Students to Stay Focused on Evaluation When They Would Rather Write about Their Own Positions on a Controversial Topic."  Diane was happy that a flier was prepared on her behalf!
• The 2016 CCCC Annual Convention Call for Proposals, due May 5 
The 2016 CCCC conference will be held April 6-9 in Houston, Texas.  Next year's theme is Writing Strategies for Action.  Download the Call for Proposals here. CCCC 2016 Call for Proposals
Mailed submissions must be postmarked by April 28, 2015.
• Blog Editor Hosts Students from China
This week, Prof. Keith Geekie, is hosting 2 students from Northwestern Polytechnical Universtiy who are here at JCCC to participate in Model UN training.
• Professor Beth Gulley Has Returned from China! 
Beth Gulley has returned from her two-week trip to Xi'an, China.  She taught and visited classes at Northwestern Polytechnical University.
Here's a photo of Beth and some of her students, who were in her online Comp I China class last semester.
• David Cantell's Article Published on New Yorker Site
Adjunct Professor David Cantwell has a new article posted on the New Yorker site entitled "The Unlikely Story of 'A Change is Gonna Come.'"  The article reflects on the significance of the 50th anniversary of Sam Cooke's civil rights anthem and changes that have or have not taken place in all that time.
• Adjunct Professor of English to Speak at a Writer's Workshop at UMC 
Leanna Brunner, adjunct faculty in English and writer extraordinaire (you'll remember that she wrote a novel in a month for the National Write a Novel in a Month event), will deliver a presentation at the University of Missouri-Columbia in April. Her presentation on Marketing the Self-published Book is sponsored by the Mizzou Press.
• Creative Writing Reading, March 25
The next Creative Writing Reading for the Spring Semester is scheduled  March 25 at 1:00 p.m., in COM  319.  The reading will be hosted by Prof. Tom Reynolds.  For more information contact Beth Gulley, especially if you would like to act as host for one of the readings.  bgulley@jccc.edu
• Shakespeare's The Merchant of Venice to be Performed at JCCC, March 26 – 28
The Heart of America Shakespeare Festival, Johnson County Community College and the Jewish Community Center of Greater Kansas City (The J) are collaborating to present Kansas City's first professional production of "The Merchant of Venice" since 1950.
The play will be presented four times in JCCC 's Polsky Theatre, located in the Carlsen Center. The times are 7:30 p.m. Thursday, March 26, 8 p.m. Friday and Saturday, March 27-28, and 2 p.m. Sunday, March 29. Visit jccc.edu/TheSeries.
Tickets are $25 and $13. They are available through the JCCC Box Office at 913-469-4445 or online. (JCCC faculty and staff are eligible for up to four half-price tickets for Performing Arts Series shows by calling or visiting the box office. You must provide your JCCC email address at time of purchase.)
The production will offer a post-show TALKBACK with the director and actors to provide a forum for discussion and an opportunity for talk about the issues raised in the play.
• New from the Journalism Department
Gretchen Thum's Advertising and Public Relations classes teamed up with Christy McWard and Judi Reilly in JCCC's Marketing Communications Department on a research project.  Christy, Judi, and Gretchen ran focus groups of students designed to evaluate the effectiveness of marketing and promotional messages.  Students had been studying strategic communications research in their classes, and this real-world experience allowed them to see the value of research in everyday PR work.  In addition, the exercise provided valuable information for the Marketing Communications professionals to use in future campaign design. Following the focus groups, Christy enlisted one of Gretchen's PR students, Kevin Robertson, to participate in a promotional campaign for JCCC.
Gretchen Thum, along with two JCCC public relations students, Julia Jones and Elizabeth Marshall, recently attended the Business Communicators' Summit, held at the KU Edwards campus.  BCS is sponsored by the International Association of Business Communicators, and is the largest local conference of local strategic communications professionals in the area.
Advertising and Public Relations students joined Marketing Management students to attend three business workshops on campus this month.  JCCC faculty members Gretchen Thum, Pamela Hulen, Lori Paldino, Shahla Nikravan, and others gathered students to learn storytelling and networking skills from Shane Brethowr, a marketing professional and executive at Lockton Insurance.   The culmination of the seminar was a networking workshop featuring dozens of local business people with whom students could practice their new skills.
• JCCC Journalism Department to Honor Eric Morgenstern, April 23
The Journalism and Media Communications Department at Johnson County Community College has awarded its 2015 Headline Award to Eric Morgenstern, president and CEO of Morningstar Communications, a local strategic integrated communications firm.
Each year, the journalism department honors a media professional whose example serves as an inspiration to college students. Morgenstern will receive the award during a luncheon at the college's Regnier Center on Thursday, April 23.
Before the lunch that day, Morgenstern will present "Think Excellence, Not Difference," at 11 a.m. in the Hudson Auditorium, located on the second floor of the Nerman Museum of Contemporary Art. The address, free and open to the public, is expected to draw students and faculty in journalism, marketing and business.
For more than 35 years, Morgenstern has helped companies achieve and exceed their growth, sales, marketing and communications goals. He provides strategic counsel to CEOs and executives of companies nationally, including Blue Cross Blue Shield of Kansas City, Hallmark Business Connections, Kansas City Area Development Council, RubinBrown and Tension.
Morgenstern is a founder of University of Kansas J-School Generations and an active alumni advisor.
• The English Department Is Registered for Cav Craze Day, May 13 
The annual spring festival, Cav Craze Day, is a fantastic event for the whole campus community featuring food, activities, music, transfer schools, clubs, and JCCC departments. This May's event will take place from 10 a.m. to 2 p.m. Wednesday, May 13, with Thursday, May 14, as the rain date. This event spans COM Plaza and Fountain Square.
Requests will go out in early May for volunteers to  man the English Department table.
• Call for Papers:  Teaching English in a Two-Year College (TETYC), due June 30  
Teaching English in a Two-Year College is pleased to announce a special issue focused on national trends and developments in higher education as they impact two-year campuses. The landscape of higher education seems to be undergoing seismic changes in the twenty-first century, and the impact on two-year campuses promises to be profound. This special issue will take stock of those changes. The issue will be published in March 2016. All submissions are due by June 30, 2015. Read more about it Teaching English in a Two-Year College Call for Papers
• Father Gregory Boyle Spoke as Part of Common Read Events 
Father Boyle spoke on Tuesday – March 10, 2015, at 11:00 a.m. in the Polsky Theater, to a standing-room-only crowd.
As the culminating event for the Common Read this year, gang intervention specialist Fr. Gregory Boyle spoke on March 10 to a capacity- crowd in our Polsky Theater. By sharing the stories of young men and women with whom Boyle works, he proclaims that kinship is most important: "without kinship, no peace," Boyle says, "without peace, no justice."  Boyle founded Homeboy Industries in Los Angeles in 1988 as a response to eight warring gangs entrenched in two public housing projects. Homeboy Industries is now the largest gang intervention, rehab and re-entry program in the world. More than 15,000 people a year enter its doors seeking transformation.
You can learn about our Common Read selection, The Other Wes Moore: http://theotherwesmoore.com/
Homeboy employs and trains hundreds of former gang members every year in seven social enterprises. Boyle recently was honored as a White House Champion of Change.
Thank you to the Common Read Committee Maureen Fitzpatrick and Lorie Paldino (co-chairs), Monica Hogan, Farrell Jenab, Katherine Karle, Staci Petrillo, Marilyn Senter, and Jane Stock for organizing this wonderful event for our students and colleagues and our community.
See his great lecture that has been posted on YouTube
The event was recorded on Tuesday, March 10, 2015. The video contains an introduction by Professor Marilyn Senter 00.00-04:54, main lecture 04:54-50: 15, Q&A 50:20-01:07:57.
• Take 5 Film Festival is April 2, Entry Deadline March 27 
The Take 5 Film Festival, sponsored by Student Live,  will be on April 2, 2015 at the JCCC Regnier Center – 8:30 a.m. to 2:30 p.m
$10 per attendee
Submit entries starting December 1. Registration deadline is March 27, 2015.
• Spring break is perfect time to complete mandatory training programs
If you have not already done it, spring break is the perfect time to complete the mandatory training programs that are required each fiscal year (and the fiscal year ends June 30, 2015).
Enroll in the Preventing Workplace Harassment program, CRN 34051, and the Information Security/Campus Safety Awareness program, CRN 34050. Once enrolled, you will receive an email confirmation message. The message has a link to get to the program.
To enroll:
Log in to MyJCCC.  On the My View tab is a green Add/Drop Classes button.
Select the Staff Dev 2014-2015 term, submit.
dd the CRNs 34050 and 34051 at the bottom of the worksheet – submit changes.
You are enrolled!
Please contact ext. 7654 if you have any questions.
 • Kansas Writers Symposium Plans Are Being Sorted for April 11
Plans for the Annual Kansas Writers Symposium are being developed by the planning committee of Tom Reynolds, Sam Bell, Matthew Schmeer, Dave Davis and Jim Leiker.  Dave will be the featured speaker.  In a morning presentation, he'll discuss character Kansas archetypes and other aspects of Kansas Science Fiction. The symposium includes a writing workshop for JCCC students.
• Booktalk Selections for Spring 2015, Next Meeting, March 27
Friday, March 27: "Big Fat Surprise" by Nina Teichotz (paperback due out January)
Friday, April 24: "Five Days at Memorial" by Sheri Fink
These meetings will be held at 2:15 p.m. in GEB 264 as well.
• Scholarship from the People's Republic of China for One Semester at Northwestern Polytechnical University, Applications due March 31
Twenty scholarships are available for students to study in China during 2015 fall semester. The International Education Office is now accepting applications for students to study Chinese language during the fall 2015 semester at JCCC's partner college in Xi'an, China.
Twenty full scholarships (tuition, fees, room, board, and books) are available. Students must have completed a semester of post-secondary study, be at least 18 years old, and have a 2.5 GPA. Previous study of Chinese is not required.
Faculty and staff are encouraged to send interested students to the International Education Office, COM 220, for an application. Contact Barbara Williams, bwilliam@jccc.edu, for more information. The application deadline is March 31.
• The English / Journalism Division Food Pantry Drive in April
Holly signed up the English dept for the JCCC food pantry drive in April, just as we voted to do in the Division meeting. As for the contribution, the needs of the food pantry vary from month to month (week to week, actually), so Holly will have more information in March.  The food bins will be delivered to us and placed in the areas we decide and will be collected by Brian Wright and/or Anna Page once the month is over.
• The Lead for Innovation Literary Context, Deadline April 3 
The League for Innovation in the Community College is sponsoring its annual literary competition to celebrate the creativity, talent, and diversity of student writers. Each League board member (including JCCC) conducts its own competition, for which students submit work in four categories: fiction, essay, poetry, and one-act play.

The work of the local winners will be forwarded to the national competition to be judged by acclaimed writers in each category. The winners of the national competition are then published in a journal. This year the journal is titled Inner Moonlight and includes the work of JCCC student Shawna Bragg, who earned third place (and a $100 cash award) for her essay "What Do You Know About It?"
The JCCC competition is now underway, and as mentioned above, we are accepting submissions in four categories: fiction, essay, poetry, and one-act play. The deadline is Friday, April 3, 2015. Please spread the word to your students. I can place copies of the entry form in your mailbox upon request. Entry form hard copies are available at the Writing Center and on the E/J Division office bulletin board. The entry form is also available by clicking the link below:
Submissions and completed entry forms can be placed in my mailbox or dropped off at my office (GEB 165H). If you or your students have any questions, contact me at ext. 3935 or at treynold@jccc.edu. Several reminders will be sent before the April 3 deadline.
from Tom Reynolds
• English and Journalism Division to Host Food Drive in April
The English/Journalism Division decided at its last meeting to organize a food drive in April for the JCCC food pantry.  This drive is being organized by EAP Professor Holly Milkowart.
• Henry Darger, Chicago Artist, Writer and Recluse
Henry Darger lived and wrote alone most of his life.  At his death in 1972 his amazing drawings and a 15,000-page manuscript of the novel  The Realms of the Unreal were discovered.
• Outcomes Assessment Mini-grants Available
Mini-grants offered by the Office of Outcomes Assessment now are available on a rolling monthly deadline; submit your grant proposal by the 15th of the month to be considered for grant-funding review that month.
Use mini-grants to jumpstart or continue your assessment projects. Funds may be used for: Assessment resources
Travel for assessment-related activities
Equipment or software dedicated to assessment efforts
Assessment retreats
Costs associated with data input or external consultants
…and more.
Mini-grants are now available for up to $750. New guidelines/applications are available from the Office of Outcomes Assessment, GEB 262, on InfoShare or on the Outcomes Assessment blog.
• Word-processing from Microsoft 
If you would like to activate your own Student Email, here is a handy PowerPoint containing just these instructions: How to Access StuMail
• Volunteers needed for Conversation Partners program
The JCCC Global English Institute is seeking English-speaking volunteers for the Conversation Partners Program.
If you are interested in other cultures, like to meet people from diverse backgrounds, converse, and are looking for a fun volunteer opportunity that doesn't require a huge time commitment, then consider becoming a Conversation Partner Program volunteer this semester for a student whose first or home language is not English.
Here are some of the benefits:
Converse in English with a student studying in English for Academic Purposes classes to help with his/her English conversation skills
Choose one hour per week that fits your schedule to meet on the JCCC campus during the semester
Great opportunity for anyone interested in education, international programs, study abroad, ESL teaching, foreign languages, community service, etc.
No experience required, but must have fluent English speaking skills
Learn about another culture and worldview
Make a friend and help others
A service learning opportunity for JCCC students
If you are interested in volunteering, please complete the Conversation Partners Program Agreement and the JCCC Volunteer Application and make an appointment to return both documents and briefly meet Jeffrey Couch, Global English Institute director (ext. 913-469-8500, ext. 4386 / gei@jccc.edu) in Carlsen Center 214B.
• Creative Writing Club to Meet Every Thursday
In the spring semester, the Creative Writing Club will meet every Thursday, 3:30-5:00 in the InFocus Dining Room (Down Under) in the Commons building.  Activities vary from week to week, but usually involve writing exercises and critique sessions.  For more information, students may contact the club's president, Stephanie Wallace:  swalla24@stumail.jccc.edu
• English Professors, Ask Students to Sign Up for Twitter, Search for and Follow @JCCCEnglish 
To create a Twitter  account on the web:
Go to http://twitter.com and find the sign up box,
Or go directly to https://twitter.com/signup.
Enter your full name, email address, and a password.
Click Sign up for Twitter.
On the next page, you can select a username (usernames are unique identifiers on Twitter) — type your own or choose one  Twitter has selected for you. Twitter will tell you if the username you want is available.
Double-check your name, email address, password, and username.
Click to Create your account. You may be asked to complete a Captcha to let us know that you're human.
Twitter will send a confirmation email to the email address you entered.
Click the link in that email to confirm your email address and account.
• Creative Writing Readings for Spring 2015, Next Meeting, March 25
The next Creative Writing Reading for the Spring Semester is scheduled  March 25. The final reading is April 29 at 1:00 p.m., in COM  319.  For more information contact Beth Gulley, especially if you would like to act as host for one of the readings.  bgulley@jccc.edu
• Alert Your Students to this CASAI Resource 
The JCCC group Council Addressing Substance Abuse Issues (CASAI)  is sponsoring meetings on Thursdays, 11:00, RC 171 for those struggling with substance abuse problems.
•The Common Read Selection for  2015-2016 Common Read Announced 
The Common Read Committee is pleased to announce the Common Read selection for 2015-2016 is The Destiny of the Republic: A Tale of Madness, Medicine and the Murder of a President by Candace Millard.  Candace is a local writer and a former JCCC student!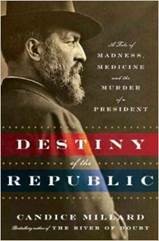 • Steve Werkmeister and the English Student Twitter Account 
You may be aware that the JCCC English Department has a publicity committee. The committee's charge is to find new ways to advocate for the Department and all we have to offer, and in pursuit of that charge we have, among other endeavors, created a Twitter account (@JCCCEnglish). I have been given the honor of administering that account, and I am asking for your help.
At its most basic, the account imparts important department and college news, recognizes literature and literary figures (or things related to literature), and advocates for the discipline in particular and for the Arts and Humanities in general. Below, I will get into why I think this is vital, but for now, here's a few sample tweets from the past couple months:
•Banned books are to libraries as dancing is to Footloose. Get your groove back with a book: http://www.bannedbooksweek.org/about so much depends / upon // 6 hours of comp / credit // glazed with rhet/oric // in MLA / format. Happy #JCCC Engl b-day, Wm Carlos Williams!
•Everything in higher ed is measurable if you value only what can be measured. #SMART#JCCCEnglish: Count on Wisdom, Count on Art.
•"Words are but the vague shadows of the volumes we mean" Theodore Dreiser, American writer. Learn to sew words to meaning at #JCCC English!
The thing is, we need followers, particularly students. Since we set up the account in mid-spring, we've attracted roughly three dozen followers, mostly through word of mouth (tweet of screen?). My hope here is two-fold: 1) you all sign up to follow the department twitter account (to do so, you need an account yourself–here are the instructions: https://support.twitter.com/articles/100990-signing-up-with-twitter) (it's super-easy–D2L will hang its head in shame–and you do NOT have to tweet in order to receive tweets). 2) you encourage your students to sign up. Our hope is that if we can get students to sign up, we can get students to elect to take more of our classes.
• Enrollment now required for mandatory training; here's how to enroll
     July 1, 2014, marked the beginning of fiscal year 2015 and with that a reminder of two training programs required of every employee every fiscal year. Completion of these two training programs is in compliance with Board Policy Mandatory Training 422.02
     Enrollment with a CRN is now required for the two training programs. You can do so through MyJCCC. After enrolling, you will receive an email confirmation that will contain a link to the training program. The training is delivered on-line 24/7 from any computer with an internet connection.
     Each training program has its own CRN, one mastery test and a certificate of completion. Should you desire a certificate of completion for your records and/or if your supervisor requires it, you will be able to print it.  You do not need to present a copy to Human Resources. Successful completion will automatically be communicated to Human Resources. Your JCCC transcript will be updated the month following the date you completed the training.
     The course CRNs are:
Information Security and Campus Safety Awareness – CRN 34050
Preventing Harassment in the Workplace and on Campus – CRN 34051
     Follow these steps to enroll:
Log in to MyJCCC
Click on the MyView tab
Click on the green ADD/DROP CLASSES button located in the Staff Development window
Select the term Staff Dev 2014-2015
Enter the CRN
Click Submit
     Questions regarding registration or the programs may be directed to staffdev.dept@jccc.edu
• The English Department's Mind's Eye Is Now Available
 From the College Website: Mind's Eye includes poetry, fiction and non-fiction. It began as a way for writers and artists to share their material in print form.
"This year, the poetry section includes 18 works, all of which have the earmarks of good poetry—interesting use of language and the ability to surprise us, to make us think about ourselves and our world from fresh perspectives," writes Thomas Reynolds in the magazine's introduction.
"The fiction and non-fiction sections are also very strong, conveying their narratives in prose that is often surprising and always compelling," he writes.
The magazine will also include interviews with Denise Low, former Kansas poet laureate and guest judge of the poetry and fiction entries, and Wyatt Townley, the current Kansas poet laureate.
The wisdom from three other writers also is included, as they answer the same three questions posed to them by the magazine's editors.
Works of art from JCCC students, which Reynolds describes "as series of powerful and thought-provoking images," also contribute to the creative content.
"Mind's Eye" is for sale for $3 starting in the C-Store and the Writing Center or from Reynolds (GEB 165H); Larry Thomas, "Mind's Eye" faculty advisor for art and photography (ATB 101B); or Kelly Byfield, administrative assistant for the English department (CC 221B).