Blog Update: January 23, 2015
---
• Word-processing from Microsoft 
If you would like to activate your own Student Email, here is a handy PowerPoint containing just these instructions: How to Access StuMail
• Volunteers needed for Conversation Partners program
The JCCC Global English Institute is seeking English-speaking volunteers for the Conversation Partners Program.
If you are interested in other cultures, like to meet people from diverse backgrounds, converse, and are looking for a fun volunteer opportunity that doesn't require a huge time commitment, then consider becoming a Conversation Partner Program volunteer this semester for a student whose first or home language is not English.
Here are some of the benefits:
Converse in English with a student studying in English for Academic Purposes classes to help with his/her English conversation skills
Choose one hour per week that fits your schedule to meet on the JCCC campus during the semester
Great opportunity for anyone interested in education, international programs, study abroad, ESL teaching, foreign languages, community service, etc.
No experience required, but must have fluent English speaking skills
Learn about another culture and worldview
Make a friend and help others
A service learning opportunity for JCCC students
If you are interested in volunteering, please complete the Conversation Partners Program Agreement and the JCCC Volunteer Application and make an appointment to return both documents and briefly meet Jeffrey Couch, Global English Institute director (ext. 913-469-8500, ext. 4386 / gei@jccc.edu) in Carlsen Center 214B.
• David Cantwell  Writes Tribute to Little Jimmy Dickens
David Cantwell has written a piece for Slate.com, on the legacy of the late and longtime country star Little Jimmy Dickens.
• Creative Writing Club to Meet Every Thursday
Starting February 5, the Creative Writing Club will meet every Thursday, 3:30-5:00 in the InFocus Dining Room (Down Under) in the Commons building.  Activities vary from week to week, but usually involve writing exercises and critique sessions.  For more information, students may contact the club's president, Stephanie Wallace:  swalla24@stumail.jccc.edu
• English Professors, Ask Students to Sign Up for Twitter, Search for and Follow @JCCCEnglish 
To create a Twitter  account on the web:
Go to http://twitter.com and find the sign up box,
Or go directly to https://twitter.com/signup.
Enter your full name, email address, and a password.
Click Sign up for Twitter.
On the next page, you can select a username (usernames are unique identifiers on Twitter) — type your own or choose one  Twitter has selected for you. Twitter will tell you if the username you want is available.
Double-check your name, email address, password, and username.
Click to Create your account. You may be asked to complete a Captcha to let us know that you're human.
Twitter will send a confirmation email to the email address you entered.
Click the link in that email to confirm your email address and account.
• Poet Tom Reynolds Featured on JCCC Homepage 
Read all about Tom's latest book Kansas Hermit Poems here
http://www.jccc.edu/photo_stories/2015/0428-kansas-hermit-poems.html
• Creative Writing Readings for Spring 2015
The Creative Writing Readings for the Spring Semester are scheduled for February 25, March 25, and April 29 at 1:00 p.m., in COM  319.  For more information contact Beth Gulley, especially if you would like to act as host for one of the readings.  bgulley@jccc.edu
• The English / Journalism Division Food Pantry Drive in April
Holly signed up the English dept for the JCCC food pantry drive in April, just as we voted to do in the Division meeting. As for the contribution, the needs of the food pantry vary from month to month (week to week, actually), so Holly will have more information in March.  The food bins will be delivered to us and placed in the areas we decide and will be collected by Brian Wright and/or Anna Page once the month is over.
Please see the handout about Service Learning.  Holly hopes to have a S-L project going in one of her classes this semester. Service Learning Workshops in February
• Steve Gerson's New Publications
Steve and Sharon Gerson have two new books going into production this spring:
Technical Communication:  Process and Product, 9th edition (begins production in Feb.)
Professional Communication in the Digital Workplace, 1st edition (begins production in Mar.)

Both textbooks are scheduled for a January 2016 release.
• Alert Your Students to this CASAI Resource 
The JCCC group Council Addressing Substance Abuse Issues (CASAI)  is sponsoring meetings on Thursdays, 11:00, RC 171 for those struggling with substance abuse problems.
• Professor Walt Klarner, 73, former English Department faculty member, passes away
Walt Klarner, retired professor emeritus of English, passed away Thursday, Jan. 8, 2015. A memorial service will be held for him later in the year at 11 a.m. Saturday, May 30, at Unity Temple on the Plaza. Contributions may be made in his honor to the JCCC Foundation for scholarships.
• Booktalk Selections for Spring 2015
Friday, Feb. 27: "The Art of Mastering Soviet Cooking" by Anya Von Bremzen
Friday, March 27: "Big Fat Surprise" by Nina Teichotz (paperback due out January)
Friday, April 24: "Five Days at Memorial" by Sheri Fink
These meetings will be held at 2:15 p.m. in GEB 264 as well.
---
•The Common Read Selection for  2015-2016 Common Read Announced 
The Common Read Committee is pleased to announce the Common Read selection for 2015-2016 is The Destiny of the Republic: A Tale of Madness, Medicine and the Murder of a President by Candace Millard.  Candace is a local writer and a former JCCC student!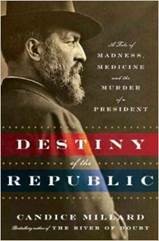 • Applications for the Dutch Exchange Program, Due March 4
     Applications for the 2015-2016 Dutch Exchange Program are now available in the International Education Office. They will be due on Wednesday, March 4.
     Faculty, administrators, and staff are welcome to apply to this exchange program, which matches Americans with a counterpart in the Netherlands. Those working with JCCC's career programs are particularly encouraged to consider this program.
     Dutch participants will visit JCCC from October 17-31, 2015, and our participants will travel to the Netherlands from May 14-28, 2016. A reciprocal homestay is a requirement of the program.
     For more information or to obtain an application, contact Janette Jasperson in the International Education Office, jjaspers@jccc.edu.
• Deadline for 2015 Kansas Voices Writing Contest,March 13
 • News about the 2013-2014 League for Innovation Student Literary Competition
JCCC hosted the 2013-2014 League for Innovation Student Literary Competition.  This week we  have published the winners anthology, copies of which are available from Tom Reynolds. The anthology includes the winning entries (first/second/third/honorable mention)  for the poetry, fiction, essay, and one-act play categories.
JCCC student Shawna Bragg won third place for her essay "What Do You Know About It?" Roderick Townley, the essay category judge, stated that her piece is "an unflinching account of a girl taken from a dangerously dysfunctional mother and thrust into the disorienting world of the child protection bureaucracy. Very affecting work."
Besides Lim, the competition judges were Thomas Fox Averill (fiction), Caryn Mirriam-Goldberg (poetry), and Paul Stephen Lim (one-act play).

• In Poetry News . . . 
Tom Reynold's poem "Raking Leaves" from The Little Balkans Review was nominated for a 2015 Pushcart Prize.
• David Cantwell's Latest Publication 
David's 7500-word monograph on country-pop singer Lee Ann Womack has been published on the website No Depression: The Roots Music Authority Since 1995.  Read the article here
• There's still time: Free College Day 2015 Volunteers Needed, but not Teachers
There's still time to volunteer for the college's fourth Free College Day on Saturday, April 18, 2015.
For each of the last three Free College Days (2009, 2011 and 2013), we offered more than 100 classes and welcomed about 1,000 people to campus. Teachers and participants alike told us how much they enjoyed the event.
Though there is now a full catalog of courses, If you'd like to volunteer to work at the event, please contact Judi Reilly at jreilly@jccc.edu, ext. 3980.
 • Steve Werkmeister and the English Student Twitter Account 
You may be aware that the JCCC English Department has a publicity committee. The committee's charge is to find new ways to advocate for the Department and all we have to offer, and in pursuit of that charge we have, among other endeavors, created a Twitter account (@JCCCEnglish). I have been given the honor of administering that account, and I am asking for your help.
At its most basic, the account imparts important department and college news, recognizes literature and literary figures (or things related to literature), and advocates for the discipline in particular and for the Arts and Humanities in general. Below, I will get into why I think this is vital, but for now, here's a few sample tweets from the past couple months:
•Banned books are to libraries as dancing is to Footloose. Get your groove back with a book: http://www.bannedbooksweek.org/about so much depends / upon // 6 hours of comp / credit // glazed with rhet/oric // in MLA / format. Happy #JCCC Engl b-day, Wm Carlos Williams!
•Everything in higher ed is measurable if you value only what can be measured. #SMART#JCCCEnglish: Count on Wisdom, Count on Art.
•"Words are but the vague shadows of the volumes we mean" Theodore Dreiser, American writer. Learn to sew words to meaning at #JCCC English!
The thing is, we need followers, particularly students. Since we set up the account in mid-spring, we've attracted roughly three dozen followers, mostly through word of mouth (tweet of screen?). My hope here is two-fold: 1) you all sign up to follow the department twitter account (to do so, you need an account yourself–here are the instructions: https://support.twitter.com/articles/100990-signing-up-with-twitter) (it's super-easy–D2L will hang its head in shame–and you do NOT have to tweet in order to receive tweets). 2) you encourage your students to sign up. Our hope is that if we can get students to sign up, we can get students to elect to take more of our classes.
• Enrollment now required for mandatory training; here's how to enroll
     July 1, 2014, marked the beginning of fiscal year 2015 and with that a reminder of two training programs required of every employee every fiscal year. Completion of these two training programs is in compliance with Board Policy Mandatory Training 422.02
     Enrollment with a CRN is now required for the two training programs. You can do so through MyJCCC. After enrolling, you will receive an email confirmation that will contain a link to the training program. The training is delivered on-line 24/7 from any computer with an internet connection.
     Each training program has its own CRN, one mastery test and a certificate of completion. Should you desire a certificate of completion for your records and/or if your supervisor requires it, you will be able to print it.  You do not need to present a copy to Human Resources. Successful completion will automatically be communicated to Human Resources. Your JCCC transcript will be updated the month following the date you completed the training.
     The course CRNs are:
Information Security and Campus Safety Awareness – CRN 34050
Preventing Harassment in the Workplace and on Campus – CRN 34051
     Follow these steps to enroll:
Log in to MyJCCC
Click on the MyView tab
Click on the green ADD/DROP CLASSES button located in the Staff Development window
Select the term Staff Dev 2014-2015
Enter the CRN
Click Submit
     Questions regarding registration or the programs may be directed to staffdev.dept@jccc.edu
• Booktalk's Schedule, with all meetings in  GEB 264, at 2:15. 
The Booktalk schedule for 2014-2015
Friday, January 23 in GEB 264 @ 2:15–The Luminaries by Eleanor Catton
Friday, February  27 in GEB 264 @ 2:15–The Art of Mastering Soviet Cooking by Anya Von Bremzen
Friday, March 27 in GEB 264 @ 2:15– Big Fat Surprise by Nina Teichotz
Friday, April  24 in GEB 264 @ 2:15–Spill Over by David Quammen
• The English Department's Mind's Eye Is Now Available
 From the College Website: Mind's Eye includes poetry, fiction and non-fiction. It began as a way for writers and artists to share their material in print form.
"This year, the poetry section includes 18 works, all of which have the earmarks of good poetry—interesting use of language and the ability to surprise us, to make us think about ourselves and our world from fresh perspectives," writes Thomas Reynolds in the magazine's introduction.
"The fiction and non-fiction sections are also very strong, conveying their narratives in prose that is often surprising and always compelling," he writes.
The magazine will also include interviews with Denise Low, former Kansas poet laureate and guest judge of the poetry and fiction entries, and Wyatt Townley, the current Kansas poet laureate.
The wisdom from three other writers also is included, as they answer the same three questions posed to them by the magazine's editors.
Works of art from JCCC students, which Reynolds describes "as series of powerful and thought-provoking images," also contribute to the creative content.
"Mind's Eye" is for sale for $3 starting in the C-Store and the Writing Center or from Reynolds (GEB 165H); Larry Thomas, "Mind's Eye" faculty advisor for art and photography (ATB 101B); or Kelly Byfield, administrative assistant for the English department (CC 221B).