JCCC's Ed Tech Studio is a dedicated space for recording:
Lightboard video lessons
Lightboard video combined with desktop screen capture
Screen capture with voice over
Course introduction video
Demonstrations
Located in LIB 373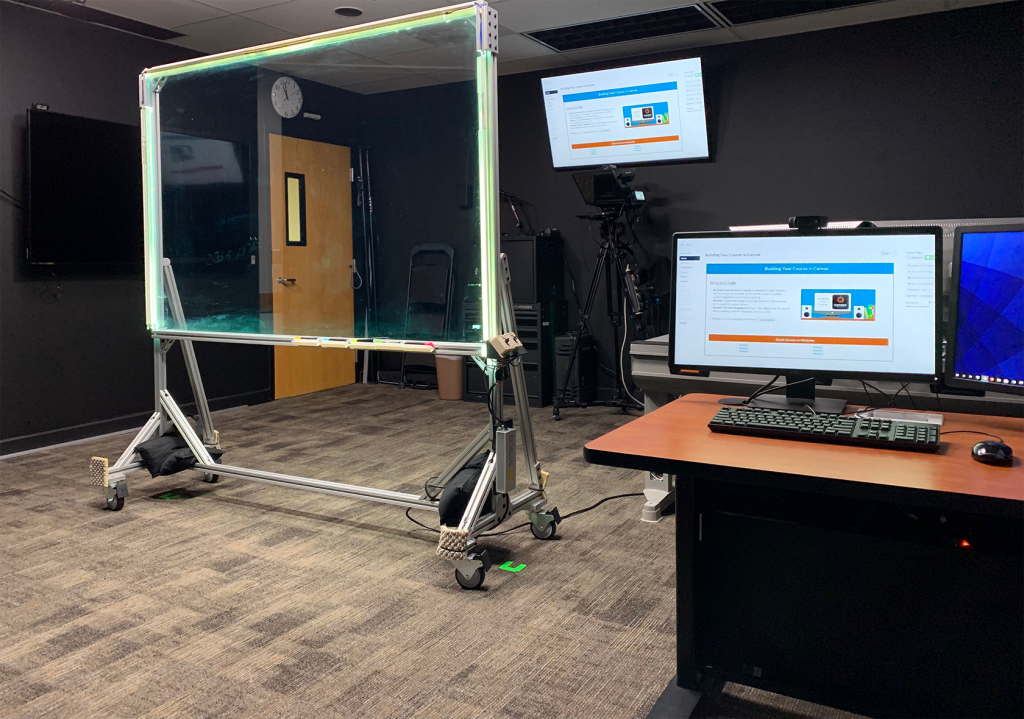 Here's a calculus II video lesson with Rob Grondahl
Lightboard Prep
Planning
5 to 9 minutes! One topic, one board.
Set a clear objective for your single topic.
Keep in mind how your students will be watching the video lessons. Is it a stand-alone video lesson or part of a series?
Plan how you will begin and end each video so it makes sense to your students in the context of the course.
Do you want to mention or reference course material that's relevant; textbook chapter, syllabus, PowerPoint Presentations or documents?
Map out exactly what you will write or draw on the Light Board. This also helps keep the length of the video around 5 to 9 minutes.
Leave some empty space on the glass to look at the camera instead of looking through your writing.
Practice on an equal sized white board or schedule some time to practice in the studio, without recording of course.
What to Wear
Avoid all black, so you don't blend into the background & look like a floating head!
Solid colors work best; it helps emphasis the writing on the glass.
When we begin recording
Be Yourself! Speak to your students.
When writing on the board, look at what you are writing.
When talking about something on the board try to point from the side, this helps the writing stand out against the background.
When you're not writing, or pointing, look at the camera.
We erase the board when we're not recording.
Sometimes it makes sense to write or draw some content on the glass before recording.
Remind yourself "how you will begin" pause, look at the camera, then go!
Skip back to main navigation