Sometime in the last few months Infohub has been moved behind a firewall.  This aggravates me to no end, but I will return to that. First – BIG UPS to THE JCCC SUSTAINABILITY DEPARTMENT.
This is something to be proud of. This is people making a difference.  This needs to be shared.  So I took a screen grab.  Somehow the tech and privacy wizards have managed to make it so that it can't be enlarged enough to be legible,so I'll quote
"JCCC has been named a Top Performer in AASHE's 2019 Sustainable Campus Index, achieving the No. 10 spot overall among associate college institutions in North America and No. 6 in the United States."
That's incredible and a tribute to Jay Antle, Kristy Howell and all the staff in the JCCC Sustainability department.  But why would the college seek to hide this light behind a firewall?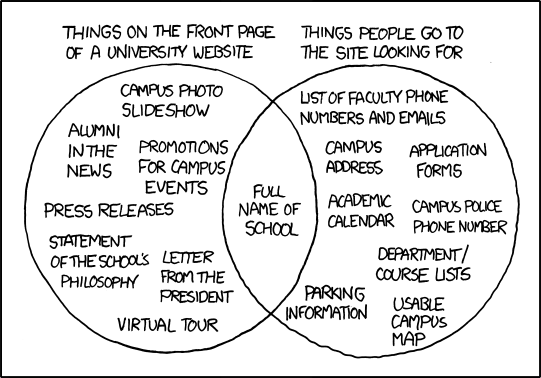 Potential students might be impressed with this.  There is no downside to sharing this information.
But the theory driving  higher education and web design evades logic.  Randall Monroe noted this long ago.
Citations
"We're a Top 10 Community College for Sustainability!" posted 10/7/19 https://infohub.jccc.edu/were-a-top-10-community-college-for-sustainability/ accessed 10/8/19
XKCD. "University Website." https://xkcd.com/773/ Accessed 10/8/19