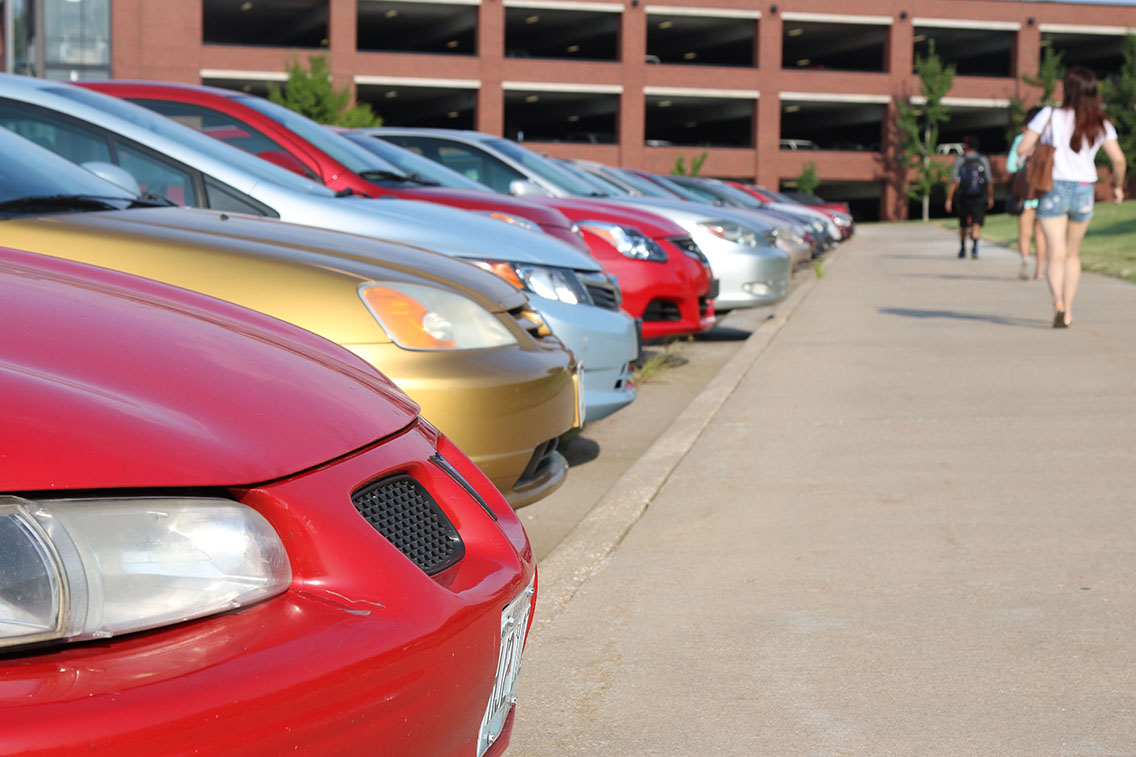 By J.T. Buchheit
News Editor
jbuchhei@jccc.edu
Students can be forced to pay fines for any number of offenses committed on campus, but the most frequent fine is for parking violations, including parking in a fire zone, taking up two spaces in a stall, parking in the circle drive or parking in the grass.
A person's first parking violation is a $10 fine, and each additional violation is $20. Parking tickets are given out every day, but they are easily avoidable.
"There are over 5,000 parking spaces available on campus," said Public Safety Officer Kathy Rhoades. "Very few of them are restricted. Allow extra time when you're coming to school so you can find a parking space, and don't park in a restricted parking space just because it's only a $10 or $20 ticket because that takes away from people who are supposed to use those parking spaces. … You can walk anywhere on campus in three to five minutes, but a lot of people don't know that because they always want to be in front of the Carlsen Center."
If a student refuses to pay a fine, there are steps that can be taken, including placing a hold on students' records, preventing them from getting transcripts and not allowing them to enroll in classes.
"A person can't just pitch their ticket and tear it up and get rid of it," said Crime Prevention Officer Dan Robles. "There's accountability for that ticket once it's given. If they decide not to pay that ticket and say, 'Oh, that's just on the college. These aren't real police officers, they have no oomph to whatever it is they're doing,' they can hold up their grades, which means that when you're getting ready to graduate … it shows that you still have some outstanding debt to be paid to the college."
Those who receive tickets need to go to GEB 115 to pay their summons. The payer may talk to the officers, who are willing to work with a person when there may have been a misunderstanding. Public Safety Officer Candace Tellinghuisen recently assisted two students who were confused about why they received tickets.  
"They didn't know where they parked was actually for faculty and staff. They hadn't seen the signs. So it's something like that where we help them understand the parking policy as well," said Tellinghuisen.
The officers aren't there solely to issue fines and uphold the law, however. They perform many actions to help students having trouble, including problems that can arise in the parking lots.
"It's not just about parking summons," said Robles. "[The public safety officers] also do motorist assists, they help you if you locked your keys in your car, you need a jumpstart, you can't remember where you parked. … So they do all these things, we give people rides to locations if they run out of gas. I think the main thing with our officers is we are service-oriented to the campus community. If your car dies, whatever it is, we're here to help you out."