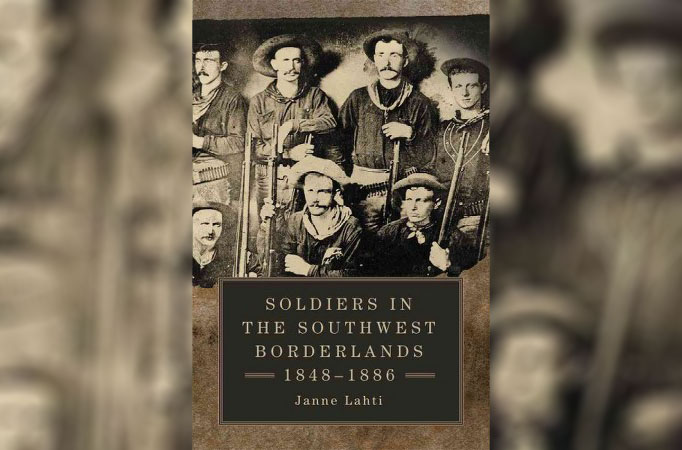 Annie Beurman
Reporting correspondent
abeurma1@jccc.edu
History professor James Leiker recently wrote a 25 page essay called "The Borderless Life of Sgt. George Goldsby," which will be published in the upcoming book "Soldiers in the Southwest Borderlands, 1848-1886."
"This was an essay that I was asked to do for an author named Janne Lahti who was a professor of Western history," Leiker said. "He basically invited a series of authors who specialize in Western military history to contribute essays that are biographies of individual soldiers who don't get a lot of attention in the big historic narratives."
Former slave and soldier George Goldsby lived from 1843 to 1922, but little would be known about him today if his ex-wife hadn't filed his pension records years ago. Leiker has known about Goldsby for about fifteen years and the essay took him around two years to complete.
"What got me interested in this fellow's story is that we have no picture of him, but he appears to have been light skinned enough to pass as white, he was dark skinned enough to pass as black, he seemed able to shift racial identities and basically do this several times over the course of his life and live under various assumed names," Leiker said.
This isn't Leiker's first time having his work published. He has written three books and many other articles and book reviews.
Though very few literary works on George Goldsby have been published, Leiker mentioned a couple of works such as "The Wolf and the Buffalo" by Elmer Kelton where the main character is based on the soldier.
"There is [also] a [pseudo children's] book out there written by a guy named Fred Staff … There's no historical accuracy about it; it's a self-published book that's meant to provide … entertainment for people who are interested in Buffalo Soldiers," said Leiker.
To read Professor Leiker's essay and other stories about many lesser known soldiers, read "Soldiers in the Southwest Borderlands, 1848-1886," which will be published by the University of Oklahoma Press on April 10, 2017.