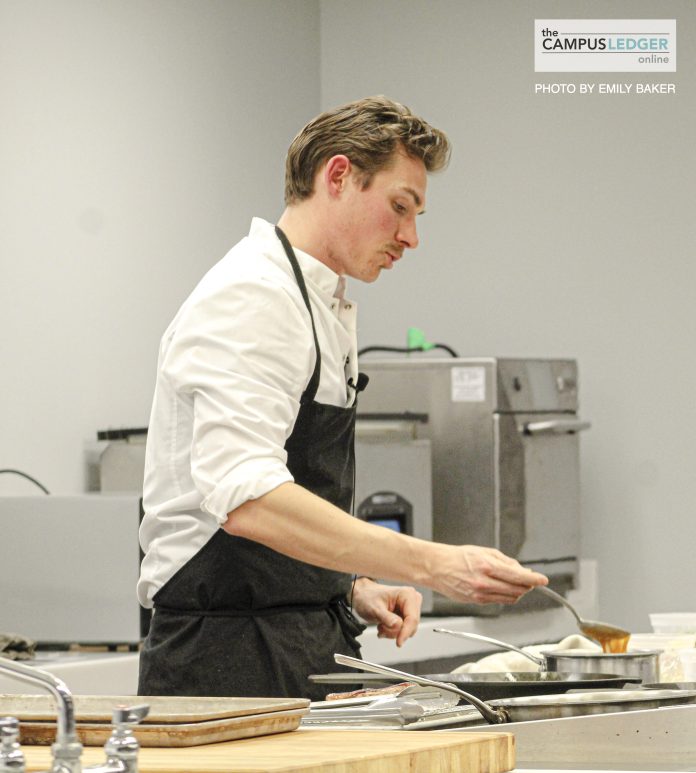 ''
French Chef Romain Monnoyeur from Lyon, France, visited the Wylie Hospitality Culinary Academy, last Tuesday, Mar. 21, giving a presentation on how to cook things like duck, celery flan, sauce gastrique, tuile, and braised daikon.
Throughout his presentation, Chef Monnoyeur gave tips to the audience on what he does when he cooks. "Cooks should always try their food," Monnoyeur said.
Chef Monnoyeur gave tips on cooking in the oven and cooling food, and emphasized cooking time food should be set at the same time to make it taste better. 
He also gives tips on what to do when making food on a pan. His technique is putting pressure on top of the food by either using a hand, parchment paper, or even the bottom of another pan. 
"I went to culinary school and after the last year were basically internships, starting from one instance from us," said Monnoyeur. "You just basically just break down or is this chicken roast chicken bones and until these chicken bases you can make the scope of this video system make a sandwich is fancy and we're trying to improve every day."
With his culinary experience, Monnoyeur served award-winning plates in restaurants such as Epcot Center's Monsieur Paul in Orlando, FL., and even at the Mandarin Oriental in Paris, France. 
Monnoyeur gave other tips such as, a chef should always cool food for the same amount of time as if it was cooking. 
While back in Paris, a friendship with Monnoyeur had influenced him through Japanese cuisine. While making a roasted chicken, he would put the roasted chicken in the brine, along with letting it dry on the fridge just like a person would do when they baked something. 
"If we don't make it in-house we use the best supplier that we can find," Monnoyeur said.
Seven years ago, Chef Monnoyeur moved to the United States and became executive chef of Westport Café, in Kansas City, MO.
The restaurant is open Tuesday-Saturday, 4 p.m. through 12 a.m., and  Sunday, 10 a.m. through 12 a.m. Visit Westport Cafe for more information on the restaurant. 
Students interested in cooking classes can get more information by visiting the hospitality and culinary program website.
Emily Baker, student reporter
''